The other day when I wrote about favorite stitch dictionaries, a friend commented about a fantastic book called Samplers and Stitches by Mrs. Archibald Christie. Ironically, the book was on my list for blog posts this week! It's a book I'm using for my needle arts class, and since it's free online, I wanted to point it out to readers.
True to form, Mrs. Christie's book is excellent! I love her books! And this one happens to be perfect for my current situation!
Now, there are Heaps of Things I like about the book. Naturally, there's a lot of embroidery instruction in it. The book focuses on stitches. The author uses lots of text explanations on how certain stitches are executed, and most of the text is accompanied by line drawings of the various stitches she's discussing.
Topic-wise, Samplers and Stitches is very thorough. Christie covers flat stitches, looped stitches, chain stitches, knotted stitches, composite stitches, canvas stitches, drawn thread work, blackwork, lace fillings, darning, cut & drawn work & insertions, and couching and laid work. That's a lot of stuff!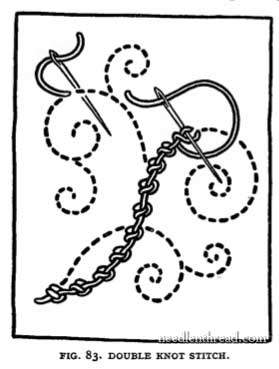 The diagrams are rather brief, but what I like about them is the little motifs that she shows the stitches worked on. These are perfect for spot samplers, and I intend to make good use of them this semester.
The content of the book is excellent, and I can't reiterate that too many times. But the line drawings in the book are equally as good. I love the black and white line drawings throughout the whole book, and I find the little critters that end each section quite captivating! Printed in 1920, the book may not be as colorful and flashy as today's full-photo needlework books, but it is full of good, solid stuff. And darn it. I like it in black & white!!
And this guy cracks me up.
Do you like embroidered jackets? Christie drew one with great detail, and you'll find it in the book!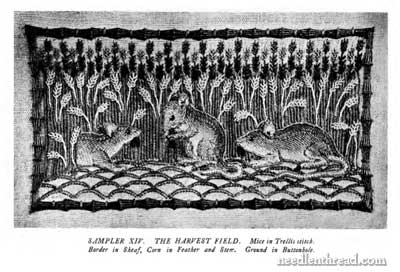 Are you a fan of trellis stitch? Then you must see her trellis stitch field mice!
Samplers and Stitches is a great used book to have on your shelf for reference, reading, and inspiration. And fortunately, it's online for free, too. Look for Samplers and Stitches at Internet Archives – you can download it there in PDF form, or you can read it directly online.
And while you're browsing through, do take time to enjoy those cute little critters!