Last week, we looked at the Most Frequently Asked Question that I've received on Needle 'n Thread: How to Transfer an Embroidery Design. This week, let's take a look at another question that pops up quite often, regarding filling large areas (including backgrounds) with embroidery, especially in a solid color.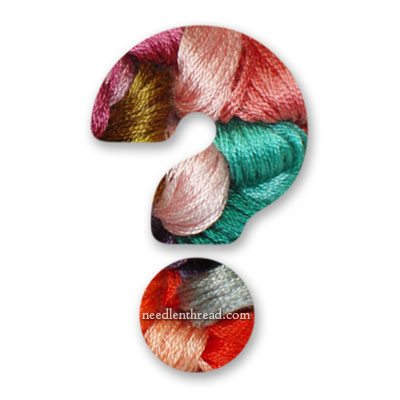 Mostly, this question of filling larger spaces has to do with satin stitch. "Should I use satin stitch to get a solid fill, and if so, how to go about doing it?"
First, let's remove the myth that satin stitch is The Stitch for filling larger areas with solid color. It isn't. Satin stitch works best over relatively small areas. If the space you want to fill is wider than the length of a regular embroidery needle (and the satin stitch has to travel that length), then satin stitch isn't the answer. Technically, satin stitches that are longer than 1″ – 1.5″ are risky, unless they are well padded, or unless they are stitched over with some sort of line or lattice-type stitching to keep the satin stitches in place.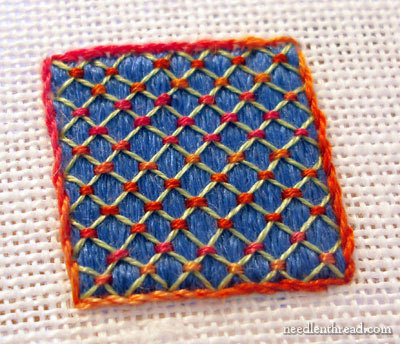 In the photo above, the blue background is worked in satin stitch. The area stitched is about 1″ square. Leaving the satin stitches naked, stretched over an inch (or longer) can lead to loose stitches, snags, and all kinds of other unpleasantries. So the satin stitches are covered with lattice work to hold them down. This doesn't precisely achieve a solid filling, but if you were going to use satin stitch stitch to fill a large area with solid color, you could work a lattice over it in the same color.
So satin stitch on its own is not ideal for filling anything large. Further below, we'll see how satin stitch might be used to fill large spaces, but only in conjunction with other (usually couched) stitches on top of it.
What are some other options for filling large spaces with embroidery?
If you want a smooth overall finish – not nubbly or textured – then you might try long and short stitch. Though long and short stitch is often associated with shading, it can be worked to very good effect in a solid color. And – a huge bonus – it's super-duper forgiving, especially when worked in a solid color! You can go back and fill in missed areas, or stitch over misdirections pretty much without worry. The stitches just sort of morph into each other.
Another stitch that you might try for filling larger areas is Roumanian couching.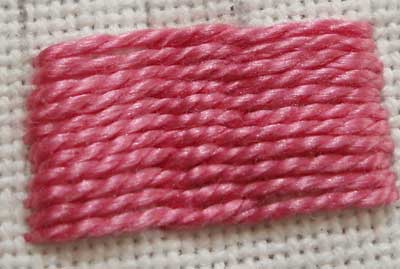 In the photo above, the area being stitched is only about an inch long. But see the little "bump" in the middle where the couching stitch is stitched over the long stitch? That couching stitch can be repeated along the line as many times as needed, to hold the stitches down. It can be worked from line to line in different spots, to form a pattern or a slight texture in the filled area. It can be worked to fill shapes, or just stitched in long lines closely together, to fill a background. It's quite versatile for filling.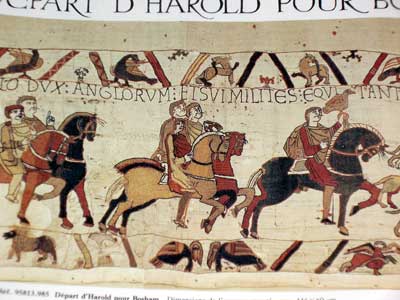 See the large figures in the image of the Bayeux tapestry above? They are filled with what is now known as Bayeux stitch. This is a technique that involves long stitches (like satin stitch, but they don't cross the back of the fabric) that are held in place by perpendicular lines that are couched at intervals. Stitch by the Embroiderers' Guild of the UK has a very good PDF online explaining Bayeux Stitch.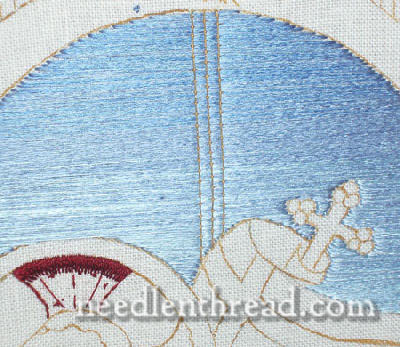 Much like the Bayeux stitch is the Italian Stitch, which is what was used to fill the sky background on my Agnus Dei project. Basically, Italian Stitch is a stitching technique involving satin stitches (or even long and short stitch, apparently – there are different versions of the technique in different old books on ecclesiastical embroidery) that are couched over with gold (real metal) threads. Like the Bayeux stitch, the satin stitches in this technique do not cross the back of the fabric. They are worked with the stitches on the top going across the fabric, then the needle coming up right next to the place it just went down, to take the journey back across the fabric on the top again. The gold thread couched over the long stitches hold them in place.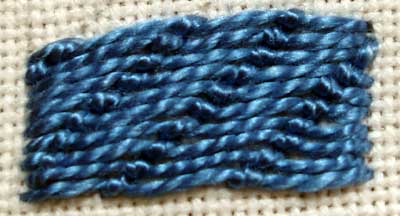 Bokhara couching is similar to Roumanian couching, but with a bit more texture. The couching stitches show up a lot clearer in Bokhara couching. Because of this, Bokhara couching looks great worked as a pattern background. It's a good way to get a solid filled area, with a bit of texture and pattern to it.
Finally, another excellent stitch for filling large areas is Klosterstitch, and for this stitch, I'm going to refer you again to Racaire's Embroidery & Needlework. If you check out this photo of her wallhanging project on Flickr, you'll see what can be done with Klosterstitch! And again, under "Handouts" in the right column of her blog, you'll find a PDF devoted to Klosterstitch. Definitely worth reading!
Now, for filling in other individual parts of designs – smaller shapes & things – the possibilities are endless! You can fill shapes with heaps of different stitches, from chain stitch as a filling, to coral stitch, to couching, to stem stitch, to trellis stitch, to… Really, the list could go on forever! You can find many stitches suitable for working as a filling in the How-To Videos here on Needle 'n Thread. But I think the best bet for beginners for finding out what stitch to use to fill parts of a design is to invest in a good stitch dictionary. There are several reviewed here on Needle 'n Thread, under Books & Links, if you're looking for one.
Finally, it's your turn! What stitches do you recommend for filling in large areas, especially backgrounds, with solid color? Input would be dandy, so do share your experiences, ideas, etc.!