Over the years of writing Needle 'n Thread, I've tried to keep careful track of needlework questions that I've received through the website. I always think that some day, I'll categorize them and publish all my answers! But Wow, there are lots! I have over 1,000 e-mails saved that fall under the "Question and Answer" category! But this is understandable, because the beginning embroiderer faces quite a few challenges, especially when going it alone.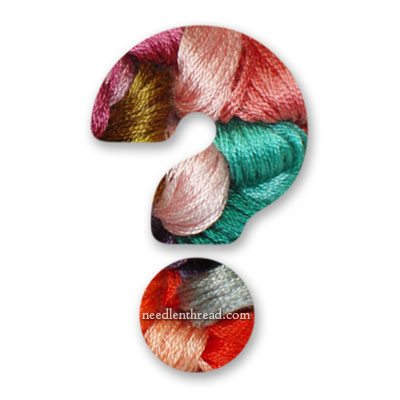 While I can't categorize and write about Every Single Question, I would like to address the most frequently asked embroidery questions – perhaps the top five. In addressing them in dedicated posts, I can hopefully pull together a good bit of the information and resources here on Needle 'n Thread that might help answer the questions, all in one place. Plus, we can all benefit from valuable reader input in the comment sections, if you have other answers to the questions.
So, without further ado, here's the question that gets the prize for Most Frequently Asked:
1. How do I transfer my embroidery design to my fabric?
There are lots of different ways to get your design on fabric, and it seems each stitcher has a favorite way. Here are some popular choices:
I hope some of these tips are helpful! What about you? What are your favorite methods of transferring designs? Any particular one that has been a No-Fail option for you over the years? Any method that I missed that you'd like to add to the list? Do leave a comment below to help out your fellow stitchers!