There are several different ways to go about transferring your hand embroidery design to your fabric so that you can stitch it up accurately. I've written about some of them already, which you can find listed in this article on all kinds of embroidery design transfer methods. I've never actually written about this particular method of design transfer because I don't use it often. That may change – thought it takes slightly more time than tracing, it's accurate, lasting, and easily visible.
Update, 2019: Over the years, I've found that the best paper to use for this method is tissue paper that you'd use for lining gift bags. It works great!
I think most embroiderers have their favorite way of transferring designs, which they probably stick to pretty regularly. Of course, the manner of transferring a pattern is going to change with choices of fabric and thread.
If you're stitching, for example, on dark fabric, it isn't likely that a regular pencil is going to help much for tracing the design onto the fabric. Neither would a water-soluble fabric marker.
If you're stitching on white fabric with white threads, you can run the risk of discoloring your threads if you use too soft a pencil and too heavy a hand when tracing your design.
Prick and pounce takes a long time – and it's a multi-step processT. Then there's the dressmaker's carbon method – which works ok, but what if you end up with a super messy line that you can't cover with your stitches, and you hadn't intended to wash the piece? Or you can't wash the piece easily because you're using non-color-fast overdyed specialty floss?
The options go on and on… and there are many of them.
Transferring your embroidery design using tissue paper and tacking stitches is a transfer method that works in just about any embroidery circumstance. I can't think of any circumstance in which it wouldn't work, really.
This is how you go using tissue paper and tacking stitches to transfer an embroidery design.
First, you need some supplies: tissue paper, a fine tipped pen, thread, a sharp needle (crewel needles or sharps are fine), and some other miscellaneous things that are nice to have on hand but not necessarily essential.
When deciding what thread to use, I suggest a regular sewing thread that's the same color as the embroidery floss you're using, more or less, unless you're working white-on-white, in which case a light blue sewing thread would work. For this tutorial, I'm using green thread so you can see what I'm doing.
The first thing I did was trace the design I'm using onto the tissue paper. This particular tissue paper is a very lightweight yellowish-brown paper, a bit like pattern paper but slightly crisper and very sheer. I use it for everything that requires pattern tracing. You can also just use regular wrapping paper tissue for this part – one thin sheet.
Using my magnetic needleminder and a few refrigerator magnets, I positioned the tissue paper on my embroidery frame. You can also just pin it on, which, in the long run, is more secure.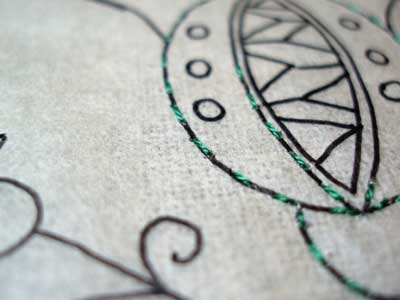 As you can see, I'm using a green thread to transfer the design. Normally, you wouldn't do this. Since I'll be stitching white, I would normally use white on this natural linen background. So make sure you think through the color of thread you're going to use!
Using small regular running stitches, stitch over the entire design. The stitches can be fairly widely spaced on open, longer lines, but as you work into detailed and curvy areas, keep your stitches a little smaller and close, to make sure the details can be seen when the tissue paper is removed.
Don't use knots in your sewing thread! Just anchor it as you would if you were basting. You want to be able to pick the design threads out easily.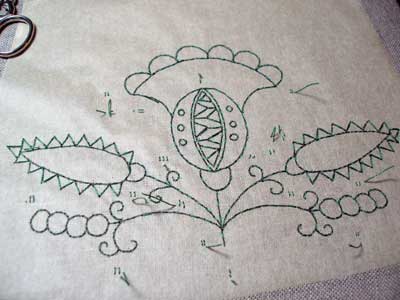 Make sure that you cover every line in the design, unless there are parts that you know you can "eye-ball" as you stitch. Those little hairy dashes in between the elements of the design are where I anchored my basting thread, by just taking two or three small straight stitches into the paper and the fabric.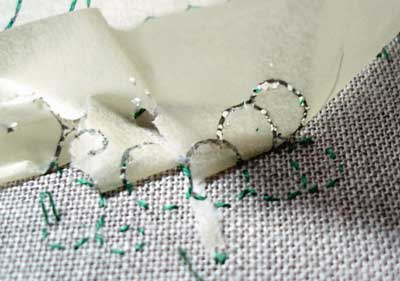 Once you've finished stitching, it's time to remove the tissue paper. Gently, pull the paper up and back, away from the stitching. Don't pull it too high in the "up" direction – I find it better just to kind of pull it back low on itself. This keeps the stitches from pulling up out of the fabric.
You can facilitate the removal of the tissue paper from the stitches by running over the stitches and paper with the eye-end of a needle, to split the paper. If you run over the whole design with the eye-end of the needle, the paper will weaken or split completely, and it's much easier to pull the tissue off.
You'll notice that some bits of tissue still stick in the fabric – that's ok, you can deal with them after you've gotten the majority of the paper off.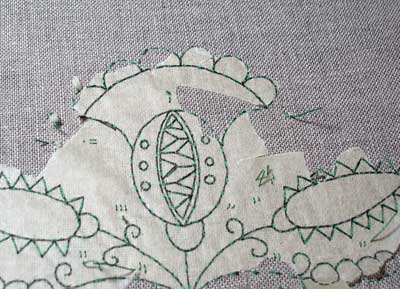 The tissue paper will be easier to remove in the larger, open spaces of the design. Still, don't just tear and yank off! Take it easy as you remove the paper.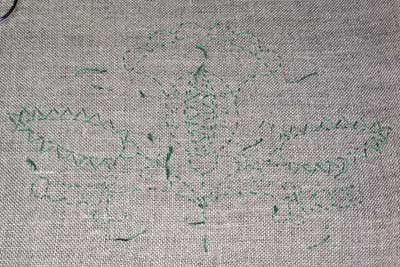 Once the paper's more or less gone, take your tweezers from your tool box and pick out any remaining little shreds. Once you're finished, you'll have a good representation of your design on your fabric, and it won't smudge, it won't rub off, it won't disappear – you can work with confidence at any pace you wish, without worrying about your embroidery design!
While you're stitching, remove the design as you go! No residue!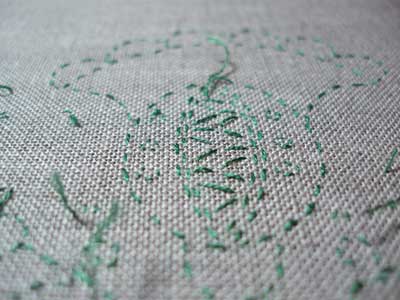 Give tissue transferring a try, if you're inclined! It's perfect for transfering a pattern especially to dark fabric. There are plenty of ways – tracing being the easiest – to transfer a design to light fabric, but with dark fabric, we often get stuck. This method works great for dark fabrics!
What method do you use to transfer your embroidery designs? Do you see any pros and cons of trying tissue paper? Would you personally bother with this method of transfer, or not? Beginners would especially benefit from input from other embroiderers, so if you have time, drop a comment about the way you transfer your designs! Thanks!