A few months ago, Pamela Alley e-mailed me a kind of photo tutorial on how she organizes her cotton floss, and in Inspirations #61, there's a little blurb on how to set up a skein of coton a broder for use. Pamela's method (which is for stranded cotton) and the method in Inspirations #61 are similar, despite the difference in thread types, and they are both the way I've normally organized my coton a broder (but not my floss), so I thought I'd show you here…
Coton a broder is a specialty DMC thread, used for whitework, cutwork, etc. It's perfect for use in monogramming. It makes beautiful satin stitches. Coton a broder isn't widely available. Even most specialty needlework shops don't carry it, or if they do, it's in the larger sizes (#12 or #16) only. You can purchase coton a broder in size 12 (largest) through size 40 (smallest), in strange increments that make little sense to me. They go 12, 16, 20, then by 5's. #16 coton a broder is about the same size as floche, but they have a different number of plies that make up the thread – coton a broder is a 4-ply thread, floche is a 5-ply thread. I order my coton a broder from Lacis. Sold as "cutwork thread" or coton a broder (you'll find it called both on the Lacis website), it comes in white and ecru in most sizes, and in size 25, it comes in a variety of other colors, too. I just buy white. If I want this type of thread in color, I go with floche, as it has a wider range of colors and shades.
Ok, so that's the thread.
The thread comes in a skein, but it isn't a pull skein, like the kind regular stranded floss comes in. It's a loop that is looped again back on itself.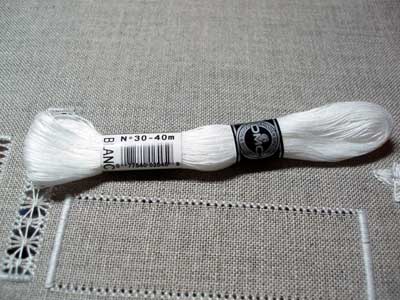 The higher count threads make up shorter, fatter skeins, while the lower count (larger threads) make up longer, skinnier skeins.
On the label, you'll see the size of the thread marked, as well as the length of thread in the skein.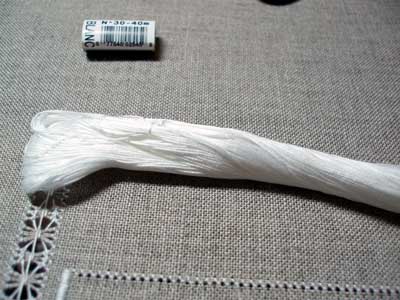 To prepare the skein for working with, slide both labels off (there's a small "DMC" label on there, which I don't find necessary to keep). Save the label with the thread number on it, because you'll use that for identification of the thread.
When the labels are off, look for the little tied-up area, where part of the bundle is tied perpendicular to the rest of the skein.
Hold the skein at the little tied area (just holding the bunch that is tied), and give the skein a gentle shake. It will fall out into a long loop.
Cut the skein where it is tied, and remove the little tying thread. I also cut the skein a second time, just opposite of the first cut, so that I have perfect lengths of threads for working with. Now, you don't have to do this – some people like working with longer lengths of thread. I personally can never stand working with a thread more than 16″ – 18″ long, and 20″ is pushing it for me! Why? Well, for one thing, I can stitch faster with shorter lengths of thread. For another, after a while of stitching, threads start to fuzz up. Using shorter lengths ensures that I don't get fuzzy threads. I'd rather go through the rigmarole of starting and stopping a thread than put up with fuzzy threads!
There's the nice clean cut. Use sharp scissors, by the way! Using dull ones to cut this bunch of threads will make it harder for you to thread your needle later on – or at least, will require you to trim up before you do.
Now you have the long label with the thread size on it, and your skein, cut to working-sized threads.
Thread the skein back into the label.
Then separate three sections of thread and work a soft braid with the three sections, so that the label is at the top.
Selecting a thread from the top near the label, pull one side out of the braid, then pull the other side out, and you're ready to stitch.
This is a nice way to organize threads, especially threads that come on looped skeins, like coton a broder and perle cotton.
Incidentally, I have another way I'm organizing my whitework threads right now, too – it is a combination of this method and another, and was the result of stopping in at an office supply store the other day. I'll have to show you my weird set-up one of these days!
Do you have any thread organization tips? Feel free to let the rest of us know how you prepare your thread and organize it for a project!