This past week, I began a practice embroidery project featuring goldwork and beetlewings. I began the project last week, and I thought the design transferring process might be interesting or helpful to you, so I took pictures. Here's a "how to" on transferring a hand-embroidery design onto the fabric, using the prick and pounce method.
Prick and pounce is an old, old method for transferring embroidery designs. It's not really necessary (of even ideal) for transferring every kind of embroidery, but it's great on certain types of fabric – though even then, there are alternatives!
But I like using the prick and pounce method, as it is accurate and it gives you a chance to make corrections before your embroidery design is set in stone (or at least paint).
So, here's what I did to transfer this goldwork and beetle wing design onto red cotton velveteen.
After finalizing my pattern, I traced it onto tracing paper. I didn't do a great job tracing it, but I figured I could make corrections as I went. Then, I got out the tools I use to prepare the paper: a paper piercing tool and a foam pad (also for paper piercing).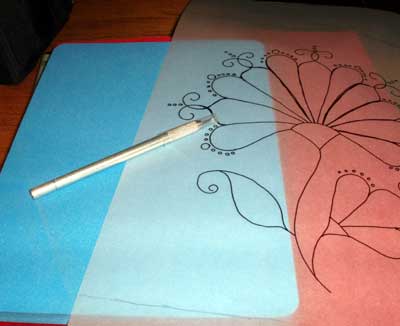 Both of these tools are really handy! You can find both of them at Nordic Needle. Alternately, you can use a couple layers of craft felt and a needle with the eye-end stuck in a cork. The tool is nice, though – easier on the hands! The method for piercing the paper is simple: just pierce all around the design, in close increments (about 1/8″ apart). Make sure you don't miss any lines in your pattern (like I did!) by holding it up to a sunny window or a light to check it.
Once you've pierced the pattern all over, you pin it or tape it to your fabric, which is already framed up and ready to go. I admit – I use scotch tape. I just find it easier than pinning the pattern on the fabric, and, if you go gently, you don't have to worry about the pattern moving about.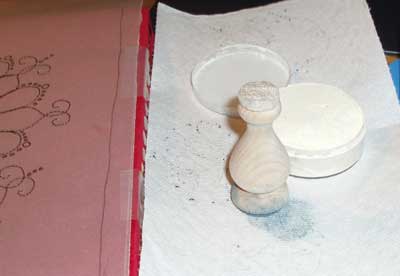 Then I lay down a paper towel and carefully open up my pounce container and get out my pouncer. I never open that stuff until the design is pricked and ready to go! It's dusty, and, if spilled, not only would it be wasted, but it would be a jolly mess to clean up. White pounce is made out of ground cuttlefish bone (like the cuttlefish things you hang in a bird cage!) Dark grey powder is cuttlefish bone and charcoal mixed. I think you could make your own pounce out of a cuttlefish bone from the pet store, but I have tried it out of regular ground chalk, but it doesn't work well, as it doesn't grind to that nice, soft dustiness. You can purchase pounce and the pouncer from Lacis. But you can make your own, and instead of the pouncer, you can just roll up a small strip of craft felt and use it.
Gently pounce all over your design, using the powder rather liberally, although it really doesn't take that much. It seems like you're using a lot, but I've had this stuff for years, and have hardly made a dent in it! Pounce gently over each line in your design. With the pouncer, the nice thing is that the weight of it (it's light, but not as light as a piece of felt!) will do just the right pouncing for you. Hold it right above your pattern, close, and sort of drop it on. And that's all there is to it. After you've pounced your first area of the design (preferably near a corner), gently lift the corner and look underneath the paper to make sure the design is transferring. But don't move the whole pattern! Just lift and peek! When you're finished, your project will look like the photo above.
Then you gently lift the paper off – and there's your pattern! Notice that I missed pricking one of the lines in the large flower (the right side of the fourth petal on the left). I will fill that in during the next step.
The next step requires a fine-tipped paintbrush (I use a small liner) and watercolor paint. I used yellow for this. Connect all your pounce dots with the watercolor, using a light hand and keeping the line as fine as possible! The paint will actually have to be rather wet, so use water to dilute it. Velveteen seems to absorb more than linen does, so I had to get used to that and work on getting the right consistency. Draw the brush lightly over the fabric, barely touching it. You will find that the pounce gums up the brush a bit, so rinse your brush often.
This is the fabric with the design painted, and with the pounce still on it.
And here's a close up of the painted lines and the pounce.
After you finishing painting in your lines, pick up your project and, holding it in one hand, click it on the back with your fingers, like you're flicking something. Do this until the pounce is gone.
And here's the design with the pounce flicked off. If any remains (you can see some white still in the design, sort of stuck to the paint), take a soft brush and gently brush it away. Now I don't have to worry about smudging my lines or my pattern fading off over time, or anything like that.
And that's how you transfer an embroidery design using the prick and pounce method!It actually took me only about half an hour to do this – but the design is relatively small, and my fabric was already framed up. What think you? Worth the trouble?