I'm not sure if you like the step-by-step on these types of embroidery projects! It just occurred to me as I started writing this that, since goldwork and beetle wings are rather specific, this could bore people to death! I'm going to take a chance, though, since I've got this little practice project on my plate. So this is the next step in my goldwork and beetle wing project – preparing the beetle wings for embroidery.
Goldwork usually photographs ok, but the beetle wings actually don't. I can't seem to get across the beauty of these little things in a photograph! Keep in mind that they aren't predominantly black, as they look in some of these photos – they are a bright jewel green – like an emerald – with all kinds of hues reflecting in them (blues, purples, yellows, coppers). They really are lovely, even if they seem rather flat in the photos!
Thanks to Michael Cook of Wormspit, I knew in advance how to prepare the wings and didn't have to go through much of a trial and error process. Before trimming the wings up, they need to be steamed for 5 minutes, in order to soften them just a bit for cutting. I started with just a few, since I figured if I had too many, they'd dry out again anyway before I could get to them all. I put a tiny bit of water in the bottom of a regular pot, put in a metal steaming basket (from which I removed the center ring), and inside this, I put a coffee filter, since I didn't want to have to pick the wings off the steaming basket. With the filter, I could just lift the paper right out.
While the wings were steaming, I laid out all my tools: goldwork scissors, paper piercing tool, regular embroidery scissors, fingernail clippers, tweezers, and stiletto. I wasn't exactly sure what I would need here, although Michael had mentioned that he had better luck with the clippers at first, so that's one tool I knew I'd need. I thought I'd use the paper piercing tool to pierce the holes in the wings, and then, if I needed to, the stiletto to enlarge them.
The first thing I did was use the fingernail clippers to clip around the top, rounded part of the wings, which are thicker and curved. Once the tougher edges were off, I found that my goldwork scissors worked fine, trimming the wings into more regular shapes (for this pattern, petal shapes and half-petals).
Guess what? The paper piercing tool didn't work for very long! Those wings are tough, and they have a grip! The tool stuck in them, and eventually, even though I was being very gentle, the tip came off the tool.
The stiletto (which is actually my laying tool – it's stainless steel with a very sharp point) didn't work, either, because the taper at the point goes from tiny to too large too quickly! The holes ended up too big. So, luckily, I have a tambour needle handle and a pack of eyeless needles which I found worked just great for piercing the wings.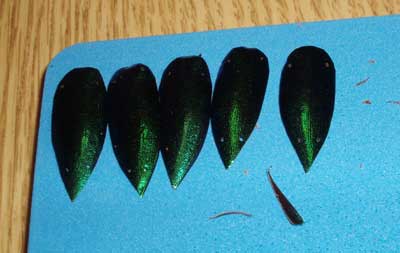 I trimmed the wings to petal shapes, working with wings approximately the same size so that the petals came out relatively even.
And this is the left-over beetlewing "carnage." You can get a better sense of the colors in this picture, although, relatively speaking, they still look rather "flat"!
Once I finished preparing the beetle wings, I went into my storage closet and dug out my goldwork supplies. I found that I had a good bit of metal "scraps" for this – purl, pearl purl, check purl, passing threads, twist, about three inches of milliary wire, and even some spangles. I doubt I'll work every type of gold into the piece, but I'm set for a good variety, anyway!
And now for the fun part! I'm off to thread my needle!