Cretan stitch gets a bad rap, in my opinion. It's normally demonstrated open, with the stitches spread out so that they look kind of like a pointed and twisted herringbone stitch. And that's all well and fine – but cretan stitch can do more than form decorative lines. When worked closed, it can fill up a space pretty effectively. It's a perfect stitch for leaf shapes, for filled bars, petals, and so forth. Don't underestimate the cretan stitch in its versatility!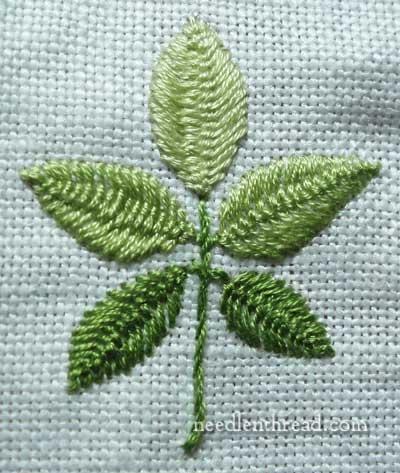 Closed cretan stitch doesn't form a solid line down the middle of the filled area (like Vandyke stitch, for example). Instead, it forms a kind of wide plaited area in the middle of the stitch – just enough to give a little texture.
Because of that twisted area in the middle – where the threads are held together – it can cover a wider space than satin stitch usually can.
And best yet, it works up quickly!
So next time you're looking for something to fill up a shape, why not try closed cretan stitch? I bet you'll like it!