Remember that felt and floche embroidery project I started the other day? It's the only project I've ever named that actually had some sense in the name – Embroidered Chaos! Thank you all so much for your name input on yesterday's embroidery pattern – your comments were so fun to read! It was fun to see how people's perceptions are in many ways the same, and in many ways completely different!
Beginning the felt and floche embroidery project was rather fortuitous. It's gotten an interesting reaction from among my students, and has raised a compelling question.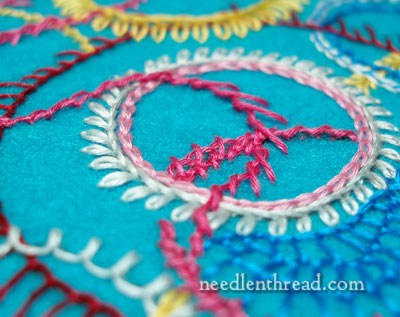 You see, this isn't exactly what I would call an embroidery project, proper. To me, a project is something that you set out doing, with a particular goal in mind. And, as I mentioned the other day, this was completely spontaneous. I just wanted to stitch a sample – I wasn't actually making anything. (Yet. I might, though… this type of stitching can be addicting!)
I don't contend that you have to be "making something" every time you stitch. Some stitching may just be for complete fun (this piece, so far, is.) Some may be for the sake of learning one little thing – and once that's learned, you may have no set use for the piece anymore and no interest in it.
Well, the fact that I am just randomly stitching stitches in circles and swirls on a piece of felt – using bright and not-necessarily-perfectly-matched colors – has fascinated some of my students.
They see the piece, and they think it's "cool."
But what has fascinated them more is my answer to their inevitable questions: "What is it?" or "What are you making?"
I have had great fun answering them: "Nothing."
Pause.
"Oh."
And it starts to sink in.
"Do I have to be making something?" I ask.
"I guess not."
"I'm having fun."
"Oh. [Pause] It looks fun."
And they look. And they wonder.
And that, my friends, is the beginning of wisdom!