Have you ever tried to characterize yourself by color? Me, neither. But if I did, gray wouldn't exactly come to mind. Reds would. Blues might. But gray? Not really. Granted, it isn't really a "color" proper – it's just a shade – but normally, I'm not too attracted to grayness.
However, the first time I smacked eyes on Legacy's "Puritan Gray" linen for hand embroidery, I new I had to use it for something. I liked it. I liked the putty grayness of it, and I really liked the way it felt.
In my head, "contrast" was bubbling up. The idea of contrast, that is – whites on gray, blues on gray, maybe flaming reds on gray. I didn't know yet, but I did have, floating around in my head, the notion that whatever is stitched on the gray (as long as it's not more gray) would somehow jump out in contrast to the gray. I'm not sure if this makes sense, but it's something I'm dabbling with.
The photo above isn't exactly an eye-catcher, I suppose. But I wanted to show you the color of Puritan Gray by Legacy. I'd also like turn your computer into one of those tactile books for children, where you can actually feel the stuff. But since that's out of the question….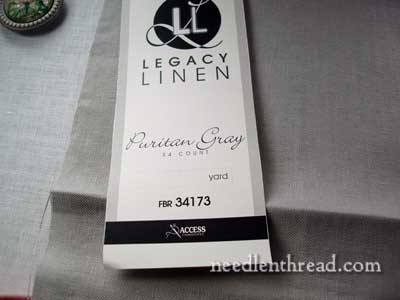 Puritan Gray is a 34 count linen made by Legacy and made available in the US through Access Commodities. Yes, it's an even-weave, but it's a high enough count that, with the right thread, it works great as a ground fabric for surface work. It has a Wonderful Hand. Hand, when you're talking about fabric, is the feel of the fabric, and it usually refers to the fabric's surface and other tactile characteristics – so, smoothness or roughness, weightiness, suppleness …. all the things that go together to produce the tactile sensation when you come in contact with the stuff. In this case, Puritan Gray is smooth, substantial feeling, but not heavy (though not too light). It's kind of a medium weight linen, with good body. The gray is a putty gray. It's not a chalk gray – it almost has a hint of pinkish puttiness to it, without looking pink.
Putty. But not silly putty.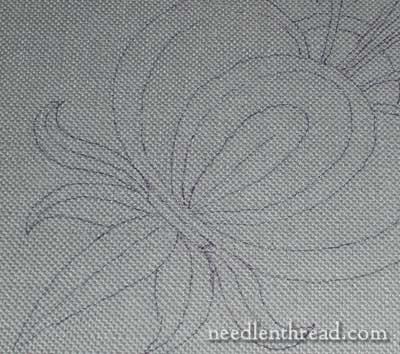 It's light enough that, with a good light table, you can make a decent tracing, though admittedly, it isn't super easy to trace on it. I plan to play around with some transfer ideas before settling on tracing as an absolute. Or I may actually invest in a better light table. The little plastic thing I've been using for years kind of stinks.
I'm "playing" with a design right now, in shades of blue. It's a beautiful blue, and there are four shades of it available in floche. And I like them together. And I like them on the gray. If these shades of blue can be had in silk, I might try silk, but I kind of like the idea of working a whole project in floche. We'll see. Then there's the background. And there's that idea of subtle white laciness that keeps coming to mind. But more on that one later!
So what do you think? Blues on gray? Reds on gray? Skip the gray? No, no! I think you'd like the gray! It's surprisingly appealing! Ok, but really, scratch the gray? White on gray? (White looks lovely and elegant on the gray, by the way!) Well, right now, I'm playing with it. And I'll show you more with the gray, the more I play!
Enjoy your day!