Today I wanted to show you in up-close, personal detail, the new palette of threads for my next embroidery project, which I am itching to start stitching on! Unfortunately, right in the midst of their photo session, a little emergency creeped up, preventing me from getting a good range of quality shots. For now, I'll just give you the overview and tell you where I'm headed. We'll look a bit closer later!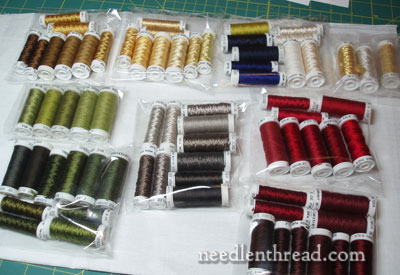 Here you see them! Aaaaah. There's nothing I like better than sitting down with a group of silk thread and having a good look-over. What you see here is a combination of various weights of silk thread, with a few spools of Londonderry Linen threads mixed in here and there. The project will also incorporate Soie d'Algier, which is a stranded silk (on skeins), and they didn't quite make it into the photo.
All of the silks are imported into the US by Access Commodities. They include Trebizond, but the majority are Au Ver a Soie silks from France, which I am convinced are really the finest embroidery silks, with the best range of types, on the market. There are other silks out there that are fun to stitch with, and that are pretty, but when it comes to thread quality and range, I do think that these silks top the charts. (Can you tell I like them?!) I'll show you the different types and weights involved in this project as I go.
So those are the silks that I'm using – but there are more ingredients going into the project: real metals of different types (though the project is not a "goldwork" project – it's a silk project), and a bead or two…. or three.
I'm calling this particular project "Jacobean Jumble," and it will involve a completely filled embroidered area, with the foundation design a conglomeration of two Jacobean motifs that kind of swirl together and lose their identity. I know it sounds weird – and it may very well end up being weird! – but the exercise will be in working with various silk threads (and some metal), with an overall "exposure" of the texture created by the different types of silk threads and the stitches. Confused? Having a hard time picturing it? That's ok! I'll show you updates as I go along.
I'll be working another project with some of these colors, though with a more limited range of types of threads, but first, I'm concentrating on getting the Jumble out of the way!
My plan for today: I'll finish up a new slew of photos, and get the design transferred, the project framed up, and maybe even some stitches onto the fabric! Wish me luck!
Questions? Comments? Suggestions? I'm all ears!