Like the RSN Essential Stitch Guide for Crewelwork that I reviewed the other day, the one for blackwork is a definite must-have resource for your needlework library – even if blackwork isn't your thing, but especially if you have an interest in it. Let me explain…
Blackwork is only sometimes my thing. There are many aspects of blackwork that I like, and I'm drawn towards certain techniques that employ elements of blackwork. I love border patterns that include blackwork, for example, and that are worked in Holbein stitch. When considered a strictly counted, linear technique, however, it doesn't really appeal to me too much: medallions or other geometric shapes (mandalas that repeat, and gridded stars and squares and circles and so forth) that are strictly counted Holbein stitch or backstitch – as lacy and pretty as they might be – aren't really up my stitching alley. Though I suppose, like everyone else, I do go through phases where I can see how they could be appealing!
But blackwork can be something different from this linear approach – i.e. "pictures" achieved by patterned stitching with a gradation of shading, and often employing embroidered outlines. This, I find appealing. There's something about achieving a shaded effect by gradually changing a pattern or by gradually changing thread weights within a pattern that I think is interesting and challenging… and beautiful. I also like the variety of filling patterns that are often employed in blackwork. Filling patterns interest me – whether they are counted or not.
So the blackwork embroidery that is primarily covered in this RSN stitch guide is not necessarily the same type of charted blackwork that we see often today. Certainly, elements of this type of blackwork "fit" within the frame of what the book is all about, but in fact, the RSN stitch guide concentrates more on that latter type of blackwork – a challenging form of blackwork that is more akin to surface embroidery than it is to counted cross stitch.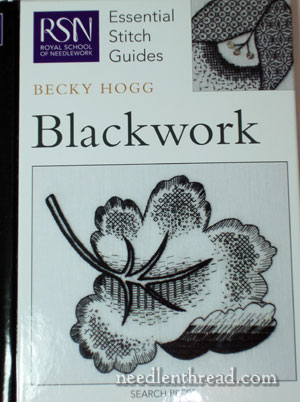 Like the previous stitch guide on crewelwork, the blackwork stitch guide is a small hardcover book, spiral bound, that lays flat. It is a stitch guide, not a project book, although while it may not contain specific projects, it has plenty of inspirational pictures that will lead readers to conceive their own ideas for projects.
There's a nice introduction the Royal School of Needlework in this book, so if you've ever been curious about it, you'll find some good, brief information here.
There's also a short – not too detailed – history of blackwork that covers the points found in most histories of blackwork: a bit on Holbein stitch, a bit on the Spanish and Moorish influence carried over into England.
There's a good section on materials – much like the one in the crewelwork book, but not precisely the same. It isn't a "cut-and-paste" job, which is nice!
You'll find information on threads and needles used in blackwork…
… as well as information on fabrics of choice for blackwork.
Once again, like the crewelwork book, there is a decent section on preparing and framing up your project, getting it ready to stitch – and it concentrates again on setting up a slate frame, though that's not the only framing option discussed. The technique is more or less the same as in the crewelwork book, but not a cut-and-paste job. I'm glad about that. You know, it could be, because these types of topics don't change too much from one technique to another, but in both books, the instructions and photos are different.
There's an excellent section on design, and nterpreting a design for blackwork.
The section on transferring is slightly different – not a heavy emphasis on prick-and-pounce, but rather, transfer methods that work best with this type of blackwork.
And then… we get into the stitches. The stitches are not as varied as they are in the crewelwork book. Rather, it's what you do with the stitches that makes blackwork blackwork. There's good information on the developing filling patterns, too.
The stitches that are used in blackwork are clearly illustrated. Hey! I was glad to see the way stem stitch is demonstrated, because this is exactly how I stitch it – leaving a loop as you pull through, bringing the needle up in the right spot, and then pulling the thread the rest of the way through…. a great way for working stem stitch on a taut frame.
Then we get to the patterns – with some good variety in here!
Throughout the book, there are photos of various blackwork projects that show what can be done with the patterns combined with surface embroidery stitches. I love the scattered seeding on the inside of this tulip that helps to "shade" that inside area.
Ahhhhhh. And then we get to the really interesting part of the book – the part on shading.
This book covers shading with blackwork better than any other book I've seen on the topic. Photos of different examples of what can be done when changing the weight of the thread or when breaking down the filling pattern help to demonstrate clearly how shading is accomplished in blackwork embroidery.
And if you aren't yet convinced of the merits of this type of shading, and how fascinating it can be, there are photos of amazing projects that utilize the technique. Pencil sketches? No! Blackwork embroidery, worked with filling patterns that gradually build up and disintegrate to create incredible shaded results.
And for those who want a little more color in your stitching, there's a bit, too, on working the techniques in colored threads for beautiful effects.
Is the book worth it? I think it is! Even if blackwork isn't your thing, what is interesting here is how certain effects can be achieved with pattern, thread weight (or thickness), and the manipulation of both, to create depth in needlework. The concepts can be applied to other surface embroidery endeavors beyond blackwork, so it's an excellent reference to have, to get a handle on how this is done.
Where to Find It
You can find the RSN's Essential Stitch Guide for Blackwork available through the following book affiliates:
In the US, Blackwork Essential Stitch Guide is available here through Amazon.
Worldwide with free shipping, you'll find here available here through Book Depository.