There are several reasons why water-soluble, air-soluble, and "erasable" transfer pens for tracing embroidery designs make me a bit nervous. One reason is that the pens are made of a chemical substance that, in the long run, may affect fabric and threads. I tend to think that anything too chemical-ish is not the best choice to use on a fabric. Another reason is because I don't trust them on two points: 1. I have witnessed a discoloration of fabric / threads from them; and 2. I have witnessed them re-appear as magically as they disappear.
That being said, on cotton fabric with colored cotton thread (for example, household projects like flour sack towels or pillowcases), I have used them to good effect, without any problems.
I recently procured an "erasable" water-soluble transfer pen, and I thought I'd give it a try. I was really curious about this "erasable" part! Was it a gimmick? I was also curious about how fine a line the pen would draw. Fine lines, even with marks that will wash away, are important to me in a transfer – the finer the line, the more accurately the line can be followed while stitching.
This is the pen. It is by Clover. The blue side is water-soluble, and the white side is the "eraser" pen.
Since the blue side is water-soluble, at first I thought the white side was a little gimmicky. But I suppose it is to remove immediate mistakes from the design as you are transferring, with relative accuracy, and without having to use water that might spread and eradicate the rest of the design. Ok. That makes sense.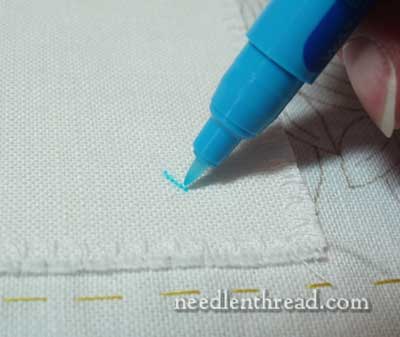 This is my "huge" test. I just drew a small line on the corner of a piece of washed linen. I figured a tiny line would tell me what I wanted to know. So I marked the line in blue…
… and then I took the erasable side…
… and I erased it. Voila! The line magically disappeared! Actually, there was still the faintest trace of the blue, so I used the eraser pen on it two more times to see if I could totally remove every faint trace, but a little shadow still remained. But overall, yes, I would have called it erased. Had I stitched over this area, the ever-so-faint trace would not have been evident, right? Fine.
And you know, I left it at that. I went on to something else, and left the piece of fabric sitting right there, and … I never really thought about it again. The eraser thing seemed to work as indicated – the line was more or less gone – and I could see how the thing would be handy for folks who prefer to use transfer pens.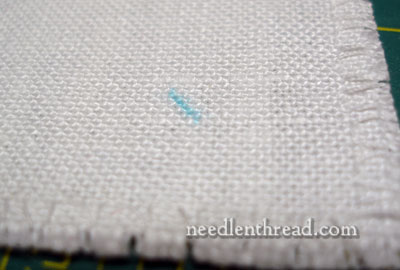 But then, two nights later, I was back out in my workroom gearing up for a short stitching session. While putting stuff away, I came to the piece of linen that I'd drawn that tiny little line on and then erased so thoroughly.
Guess what? The mark had magically reappeared!
Now, if I had transferred a design using this pen, and had made a mistake or changed my mind about the transfer and had used the eraser part to remove the mistake, and if I had then been stitching the design, and the stuff I didn't want had begun to reappear, I think I would have been irritated. I certainly would have called the eraser part gimmicky.
Incidentally, the one event that turned me off water-soluble pens happened about six years ago, when I was working on linen using white cotton a broder. After finishing the piece, I soaked it in water as the directions indicated. The design transfer was all gone, and I left the linen to partially dry. As is my habit with this type of linen piece, I ironed it the rest of the way dry from the back (on a softly padded surface), to achieve that desirable crisp linen look. This is something I have always done with linen, and it has always worked well. But what to my wondering eyes should appear in the midst of this ironing job? Yes, the blue lines – here and there – fainter than they had been originally, but there nonetheless, and there ever to remain, because they wouldn't come out afterwards.
If you do choose to use a water-soluble transfer pen, one of the hard and fast rules seems to be never to iron your fabric before you remove the marks. But you know, you should be able to after the marks are gone!
Following this, I examined another piece of linen stitched with white coton a broder, which I had finished the previous year, on which I had used a similar (though different brand) pen. Whew – no blue lines!
….. But wait….. no, there were no blue lines… but there was a yellowish hue around the design. At first, I thought it was a shadow, but everywhere the pen had touched had actually turned yellow. Not a bright yellow. But yellow nonetheless. And it was there permanently. And I resolved at that point, not to use transfer pens ever again on anything of any real value to me.
This doesn't mean that in all situations, the same thing would happen. Many stitchers have used water soluble pens to good effect and have not had disappointments. As I said above, for cotton on cotton, especially in color, I've used them without any noticeable problems. I especially use them in my summer children's embroidery classes, because with children, it's a fairly easy way for them to draw a design that will wash away.
But you might want to think twice before you use this type of transfer pen on anything that you plan to treasure or to give away to someone else to treasure – and on anything in which you might make a greater investment for fabric and threads and time. If you're absolutely confident that you won't have any problems, sure, go for it! But if you're not, I always say better safe than sorry.
What about you? What are your experiences with these types of pens? Do you use them? Are your experiences always good, or have you had some disappointments with them? Do you avoid them for any particular reason? Any input? Feel free to leave a comment and let the rest of us know!
Tomorrow, I'll show you the new RSN blackwork book up close, and hopefully, I'll have threads to show you for the pomegranate corner wool project by the next day!