It seems that every year, I end up doing at least one pomegranate-oriented embroidery project! Why is that?! Well, this time, I'm using this embroidery pattern, and will be showing you the project step-by-step, so that you're welcome to stitch a long if you like.
To start, I printed four copies of the pomegranate corner pattern, cut out the corner designs, lined them up on graph paper to make sure they were square, and taped them down, ready to trace.
For linen, I'm using Alba Maxima, a Legacy linen, which is a nice weight for wool embroidery. I thought about using twill, but there's a chance I may incorporate a drawn thread bit either around the outside, or on the inside – we shall see! The idea is floating there, so I thought it best to stick with a linen that would be suitable in case I do end up drawing some threads out. I'd go with a piece of linen about 15″ square, or maybe even slightly larger – it all depends on how you want to use your finished piece.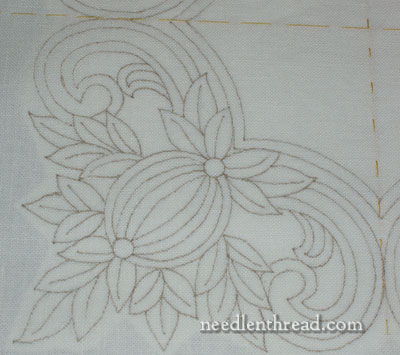 You can transfer the embroidery design using any design transfer method you prefer. I traced the design using a "moonstone" colored Martha Stewart craft pen (permanent, archival quality and so forth), which you can pick up at Michael's. You can also use a sepia colored micron pen to very good effect for this type of project. Sepia or light brownish ink are more preferable, over black ink. The color will blend better and the tracing lines will be less visible – in fact, they should be invisible – when the embroidery is complete.
The design gives some good "scope" for some fun stitching, as well as a few focal points for learning certain techniques that might seem a little daunting to beginner or novice stitchers (like nice satin stitch circles, for example). There'll be a little bit of long and short stitch shading going on, too.
As far as wool is concerned, I'm awaiting some supplies right now, and I'll let you know what threads I'm going to use once I receive them and have a chance to go through them. I may use a combination of wools, as I did on the Crewel Rooster project last year, or I may stick with one wool for the whole piece. I'll know that better when I have those supplies on hand!
I'll also be highlighting some instructional resources that will help with the project – in fact, tomorrow, I'm reviewing the RSN Crewel Embroidery book that recently came out, which I think would make a nice reference to have on hand for this project. Well, more on that tomorrow!
So, if you're interested in following along, in stitching the same piece along with me, you are quite welcome to do so… or you can just sit back and watch it unfold. Whatever the case, there will be a permanent directory for this project, so that you can come back to it later if you want!
Questions, comments, suggestions? Feel free to leave a comment!