Here's a complete index of the step-by-step articles on the Crewel Rooster embroidery project.
Within the articles, you'll find valuable tips and tricks on crewel embroidery and on the supplies used, including fabric and a variety of different wool threads.
This embroidery project was primarily experimental – I wanted to test the new linen twill by Legacy linen and try out a variety of wool threads that are available on the market.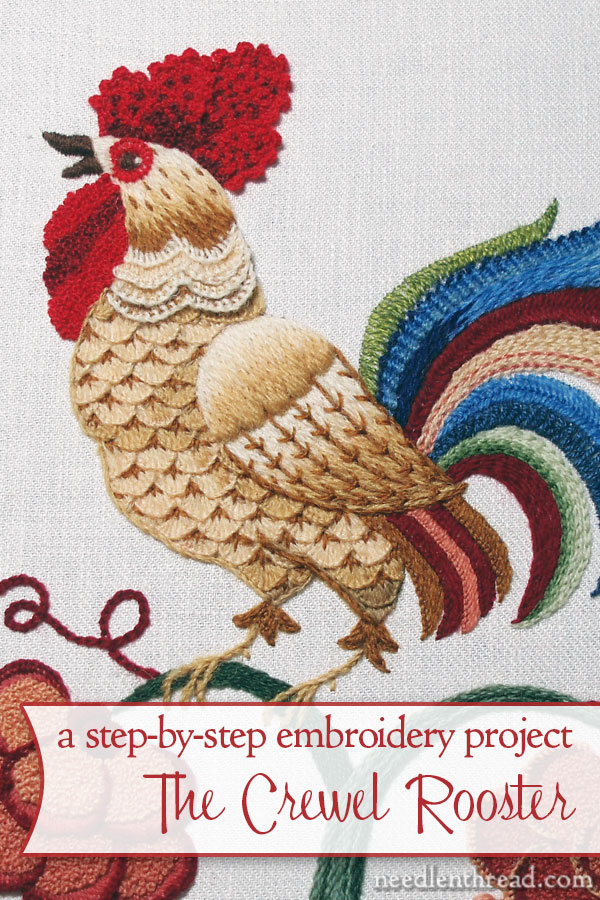 The following links will take you chronologically through the whole crewel embroidery project, from start to finish.
Free Hand Embroidery Pattern for The Crewel Rooster
Setting up The Crewel Rooster Project
Choosing Threads for The Crewel Rooster – and the first flower
Crewel Design Books
Stem Stitch Filling on Flower Stems
Scalloped Feathers on the Rooster's Body
The Beginnings of the Rooster's Tail
French Knots on the Wattle
Adding the First Blue Feather using a Raised Backstitch
The Rooster Tail, Finished for Now
The Wing – Three Attempts
Adjusting the Tail Feathers One More Time
The Rooster's Head, Neck, and Comb
The First Flower Attempt Comes Out
New Colors for the Flowers
Lots of Knots
Rethinking the Flowers Again
More knots on the Flowers and a Color Change
The Crewel Rooster – Finished!
The Crewel Rooster on a Platter