Oh, golly. Picking out threads for an embroidery project is Hard Work! 'Course, as work goes, it's the kind of Hard Work I can really get into. It isn't quite the same as cleaning bathrooms, is it? Here's my thread-sifting adventures for the Crewel Rooster project.
I'm going to be working this crewel embroidery project much like a sampler – a kind of off-the-cuff sampler. There's a dual purpose behind this project. The first point is to play with different wool threads that are available on the market and see what they're like, and especially, what they're like in comparison to each other. The second point is to play with stitches that are typical of crewel embroidery.
All of my threads for this project are coming from my stash. So, unlike the designer who designs a project, works out the colors on paper, then picks out suitable threads to carry out the project, I'm sort of winging it on the color choices. For the sake of this particular project, it's the type of thread more than the color choice that is moving me in my selection. Now, don't get me wrong – I'm going to try to coordinate things so that the poor rooster doesn't end up looking like a blob of discombobulated colors. But my choices are limited entirely to what's in my stash.
Ok. Admittedly, there's no dearth of Appleton crewel wool here. I have some hundreds of skeins. I've never counted them. I really don't want to know how many are there. They stuff into a medium sized plastic garbage bag. I haven't taken very good care of them. I wouldn't be surprised if one day, they just up and decided to felt themselves.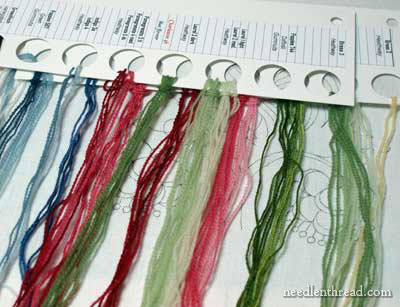 Besides the Appleton, I've got the leftovers from a couple of the crewel smalls kits I've been working lately. These are Heathway wool threads and Gumnut poppies – mostly Heathway. And not a lot of either.
I have these skeins of Fine D'Aubusson, made for Au Ver a Soie and distributed by Access Commodities. These threads will be available in the States this month, I think.
Then I have this kind of odd-ball collection of threads. The hank in the back, I think, is crewel-weight Paternayan wool. It's only marked with a color number and price tag, but I'm pretty sure I bought this off the wall at a needlepoint shop under the Paternayan wool sign. But I could be wrong. Oh, the disadvantages of not writing things down!! Then there's a Bright Red skein of Bella Lusso, which is 100% merino wool from Italy, and then three cards of Gentle Art Simply Wool, which is a rather fine wool embroidery thread that comes in a very limited range of colors.
These are the colors I chose out of the Appleton pile.
In addition to the above threads, I'll also be using some Renaissance Dying crewel weight wool, if the colors work out. I need to dig those out – I think I have at least a couple colors of these threads. These are wools made from vegetable dyes, by the way. Kind of neat process and interesting website, if you want to visit Renaissance Dying and read a bit about what they do.
So I picked out all my threads, and assembled the framed fabric ready to embroider, the threads, my tool box, and a little "doodle hoop" into a smallish basket to house the whole project while I make my way through it.
What's a doodle hoop? It's a very handy item to have in your work basket when you're making your way through a project. I've hooped up a small scrap of the linen twill, so that I can test out different threads or stitches before I use them. When you're working with a thread that's unfamiliar, it's nice to have an idea of how it's going to work before you use it on your project!
And, finally, yes – I started. And boy, do I regret this! I wanted to get blue into the piece, but I thought that it might be difficult working blue into the tail of the rooster (Does it really matter? Probably not…) So I decided to do the flowers in blue. Not just any blue – I wanted a deep, bright blue, like a crisp Autumn sky on a chilly day. I used buttonhole stitch on the flowers, with the darker of the two blues I selected. And then I went through stitching-and-picking-out-hell, trying to figure out what to fill the rest of the petals with.
But more on that later!
That's my color-choosing adventure.
Any comments? Suggestions? Advice? Any ideas for filling those petals?