The purpose of this article is to provide an index for all the posts in my goldwork embroidery project, which features a stylized "pomegranate" or artichoke design.
Almost every article in the series has some valuable tips and techniques for goldwork, so I'm hoping that you'll find it useful to use as a reference.
I began this particular goldwork embroidery project in February, 2010, and finished it almost two months later, at the beginning of April. It took a total of 56.5 hours to work, including project design, set-up, and the stitching. The finished project was framed.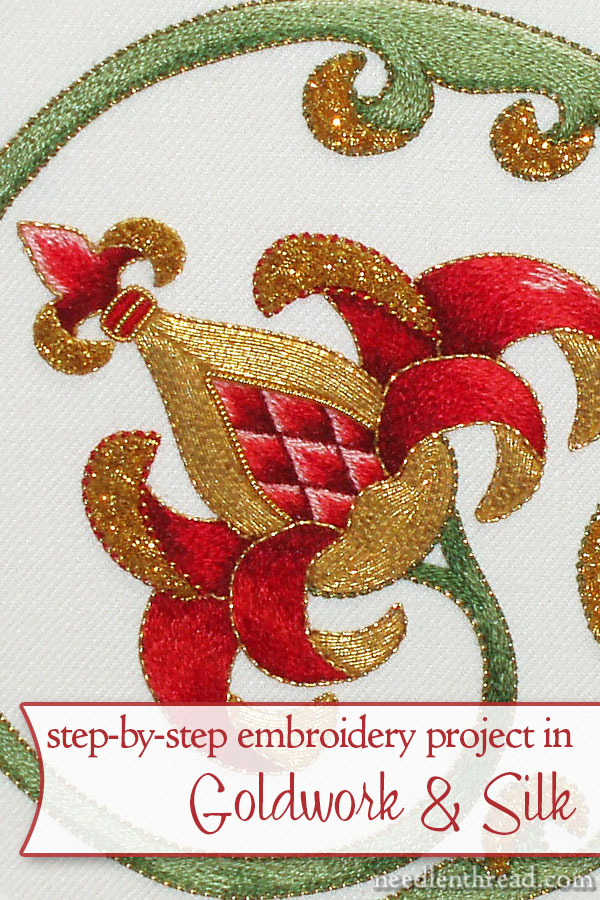 You can find all the articles in this series, in order from start to finish, through the links below:
Stylized Pomegranate Pattern used for this project
Setting up the Project on a Frame
Preparing the Ground Fabric with Felt Padding
Selecting Colors of Silk for the Project
The Stitching Begins – Silk Shading
Continuing the silk shading – the left side
Finishing the silk shading
The Goldwork Begins: Smooth Passing Thread
Check Thread for Outlining
Chip Work Filling with Check Purl
Outlining with Stretched Pearl Purl
Filling the Bowl with Passing Thread
Finishing the Tips with Passing Thread
Finishing the Fruit
Beginning the Stem
Continuing with the Green on the Stem
Almost finished! Chip work on the Stem
Goldwork Embroidery Project: Finis!