I was super-eager to finish the silk shading on the "fruit" part of my present goldwork project, because then I could move on to the gold! After all, what's a goldwork project without gold?? So I hastened to get the rest of the color worked on the fruit…
With the lattice design in the middle of the fruit, there are so many options for interpretation. I decided to go with silk shading in the middle of the fruit, with goldwork around it. So that central lattice section is solid (shaded) color. It was actually at the point of finishing it that I decided my stylized pomegranate is looking more like an artichoke.
A red artichoke, no less.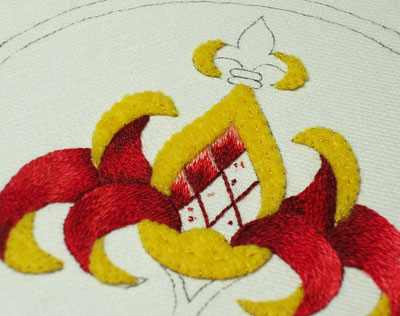 The first thing I did was split stitch the lattice in the darkest red. This provided an outline for each diamond, which I shaded using long and short stitch and four shades of red – the lightest pink at the top, followed by the next lightest shade, and then one of the medium values, and ending with the darkest at the base of the diamond.
You can see the shades here a bit better. I didn't cover the split stitch line, by the way. I left that visible, to mark the lattice.
You can see here a couple layers of shading and the basic shape I followed for doing the long and short stitch.
And that's the finished center area. I'm not sure – I might put some gold in there. What do you think? It might be easier to decide after seeing the goldwork around this section first.
For the little fleur de lys tip, I started at the top with the lightest pink and shaded down the center section, and then, with the two arms under the turn-overs (the frito-looking felt things!), I used the darker values down to the base.
So there it is – the silk shading is finished on the fruit. I'm going to do the goldwork on the fruit before moving on to the stem. Otherwise, we'd be waiting forever to get to the really fun stuff!
Tomorrow (Tuesday, March 9th) I'll be giving away another copy of Susan O'Connor's Embroidered Flowers for Elizabeth. It's going to be a short run on the give-away, so do make sure you stop by!
For all the posts in this series, please visit the following links, which are arranged in the order of the project's development:
Stylized Pomegranate Pattern used for this project
Setting up the Project on a Frame
Preparing the Ground Fabric with Felt Padding
Selecting Colors of Silk for the Project
The Stitching Begins – SIlk Shading
Continuing the silk shading – the left side
Finishing the silk shading
The Goldwork Begins: Smooth Passing Thread
Check Thread for Outlining
Chip Work Filling with Check Purl
Outlining with Stretched Pearl Purl
Filling the Bowl with Passing Thread
Finishing the Tips with Passing Thread
Finishing the Fruit
Beginning the Stem
Continuing with the Green on the Stem
Almost finished! Chip work on the Stem
The Finished Goldwork Pomegranate