The Royal School of Needlework has begun publishing a series of "essential stitch guides" for various needlework techniques. The first two to come out in the series are on crewelwork and blackwork, and it looks as if two more will not be long in coming.
The title of the series indicates exactly what the books are: guides to the essential stitches used in the given technique. Keep in mind that they are not project books – you won't find any practice projects in them, or anything of that nature. Rather, you'll find the essential information for getting started (and progressing) in the needlework technique.
The Essential Stitch Guide to Crewelwork is small (about 6″ x 8″), hard bound, with a spiral binding hidden in the spine, so that the stitch guide lies flat.
The book begins with an introduction to the author. All the authors are graduates of some level of the Royal School of Needlework. Incidentally, you can see that there are two more stitch guides announced here – one for stumpwork and one for silk shading.
Like most technique-specific needlework books, the crewelwork stitch guide begins with an introduction to crewelwork. You can see that there are plenty of colored photos of crewelwork throughout the book (the photos are actually very clear and colorful – not dark – that's just my bad photography!)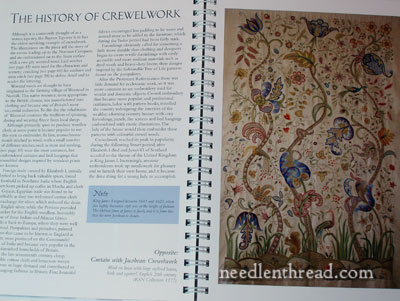 There's also a brief bit on the history of crewelwork. Don't expect super-detailed history here; it's the bare bones of the development of crewelwork, which I think is fine for a technique manual.
Again, like most embroidery how-to's, there's a nice section on equipment, focusing mostly on the traditional equipment used in embroidery, and still used by the Royal School of Needlework. There's talk on frames and hoops – you won't see Q-snaps here!
Next up, there's good information on threads and needles, with a handy diagram of needle types.
There's also a brief section on designing and color choice – again, the information isn't in-depth and detailed, but it is enough to get one started in the technique and to help guide various choices the stitcher would make when considering a design.
Well, I happen to like the color section… It's those balls of wool threads. They're threads, they're colorful, and I am a sucker for pictures of thread. The information is good, too!
Many technique books address the setting up of the project – framing, transferring, and so forth – and this book is no exception. I really like the detail here on setting up a slate frame. Good information!
And the information on transferring the embroidery design is also excellent. There's a good bit on using the prick-and-pounce method, which is good to know, especially when working on heavier fabrics that may not trace well on a light table.
More start-up info here – something not necessarily addressed in every technique book. This is a nice spread on handling the skeins of crewel yarn, pulling the thread out from the correct place, measuring a stitchable length, and threading the needle.
All this introductory information is quite helpful for getting a project underway correctly.
But the meat of the matter in any technique book is the technique. Using clear step-by-step photos, the book focuses on all the essential stitches used in crewelwork, arranging them according to type – filling stitches, line stitches, etc.
Did I mention that the photos throughout the book are beautiful? While the book may not feature specific crewel projects, it certainly features plenty of inspirational photos. I just love this pomegranate! And next to it, you can see the lattice work filling demonstrated step-by-step.
Plenty of stitches are demonstrated, and I have to admit, this is the "lushest" tutorial on Turkey Work!
The tutorials are all clear and concise, with easy to follow text instructions that correspond with the photos.
And in case you're afraid that all the pictures of serious subject-matter for serious embroidery, there's this lion-monkey piece in the back of the work that's perfectly whimsical!
Pros:
1. I'm glad the book doesn't devote heavy duty coverage to history and so forth. It's a stitch guide, and that's what I bought it for. There's enough there to satisfy, but not enough to weigh down the reader in the details.
2. It covers just what it promises – essential stitches for crewelwork – and it covers them well, with clear step-by-step photos and text instructions.
3. The information on framing up and transferring is excellent – it's everything that you need to know to get started on a crewelwork project.
4. I like the format of the book – a small book, with a spiral binding, meant to be used while you work.
5. The price is right – it can be found for under $15 new in the US.
Cons (and they depend on what you look for in a technique book):
The book does not get the beginner started with a project. If you are expecting that, this is the wrong book for you! Many of the Search Press books (for example, The Beginner's Guide to Goldwork by Ruth Chamberline) feature projects or samplers to get the beginner started. But the book doesn't claim to be that. It's a stitch guide, so I don't really find this to be too much of a problem.
Overall, I really (really!) like these stitch guides so far. I think they'll be a worthwhile series to have on your reference shelf. They give you enough to get started well in a given technique, and they do it for a good price. While I love Country Bumpkin's A-Z series for different techniques, I usually have to look for them on sale, as the price tag can be somewhat prohibitive. The RSN books run less than half the price, but admittedly, they don't have as much content.
Where to Find It
You can find the RSN's essential stitch guide for Crewelwork available through the following book affiliates:
In the US, Crewelwork essential stitch guide is available here through Amazon.
Worldwide with free shipping, you'll find the Crewel Work essential stitch guide available here through Book Depository.