Last week, I showed you a "sneak peek" of the Jacobean Jumble embroidery project that I'm working on. I've taken a couple little turns in this project (in a number of ways), and am adjusting things as I go. Today, I thought I'd show you one turn in particular – a chain stitch swirl, worked in Soie d'Alger, which is a spun silk that's used pretty much the same way you'd use stranded cotton.
Only it's silk. And so it's softly shiny, as only silk can be!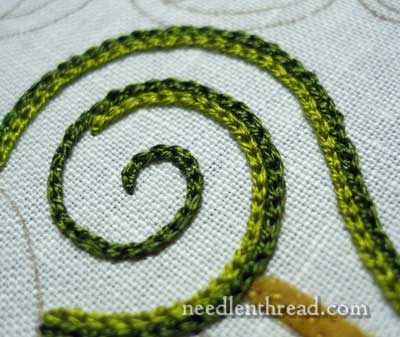 I wasn't actually intending to work this swirl in chain stitch, but I did want to work at least one section of the design in a series of chain stitched rows that change gradually in shade. And this was the only part of the design that gave me enough "room" to do that. So I started chain stitching, and overall, I think I will like the effect.
Soie d'Alger is a stranded silk from Au Ver a Soie, and it's used much like stranded cotton. There are seven strands per complete thread (vs. six strands in stranded cotton). Just as you would with stranded cotton, you strip or separate the individual strands, then put back together the number of strands you want to stitch with. Here, I'm stitching with two strands of the Soie d'Alger.
Soie d'Alger is "spun" silk, as opposed to filament silk. So while it maintains some sheen that is typical of silk, it isn't as shiny as filament silk. The difference between the two: filament silk is thread made from the long strands of silk straight from the cocoon, while spun silk is thread made from the leftovers of the silk cocoon, spun together into a thread (pretty much the way cotton and wool are spun into thread). The fibers are shorter, and therefore the sheen is not as great. But spun silk still has a definite sheen, and you can see it in the second photo.
I like working with Soie d'Ager. It is an s-twisted silk, by the way, so it handles very much like cotton, only it feels nicer to stitch with it. I normally stitch with about a 16 – 18″ strand at a time, so that I don't end up stitching with thread that is wearing or fraying.
I'll be adding a touch of gold, I think, to this curly-q – or I might ad a very dark, fine outline on the outside of the curl, to act as a kind of "shadow" – OR – I might do both! We shall see! I'll be exploring that this afternoon, and I'll let you know how it goes.
If you'd like to read more posts about this project, here they are:
A Glance at Silk Embroidery Threads – the various silks and colors I'll be working with for this piece
Keeping a Thread Journal – the process of tracking the piece as I go
Jacobean Jumble – a Sneak Peek – the first "test" stitching (which, incidentally, is done on the "test" piece, which I use kind of like a doodle cloth. I try out various things before completely stitching them on the "real" piece…)
Coming up next week: a couple book reviews of two recently published and quickly popular needlework books, as well as a look at a new project I've transferred and plan to be stitching in D'Aubusson wool, as a kind of step-by-step project here on Needle 'n Thread. Can't wait to get all the materials lined up for this one!
Hope you have a terrific weekend, with a little bit of stitching time in there somewhere!
Tags