Ahhhhh. It's Saturday, and much of today, if I have anything to say about it, will be spent with this wool embroidery project (the Pomegranate Corners) that I've been muddling through. It's true that I've been putzing around on it! I'll share with you my source of consternation on the project, which I think most needleworkers can relate to at some point or another.
So the question is, why the hold-up on this particular work, and how can we get over the walls we build when frustration sets in?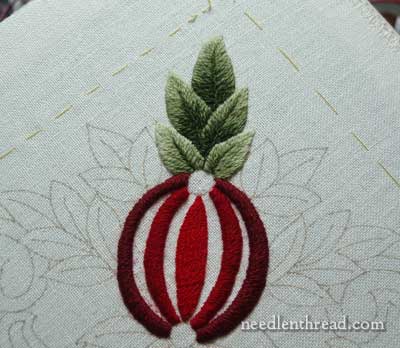 This is where I left off, last time I posted about the pomegranate project. It hasn't gone anywhere at all since then.
When I began this project, I had only a vague idea of where I was going. (Remember the six P's: Proper Prior Planning Prevents Poor Performance!) Still, I knew I wanted to work with wool again, and I liked the overall design of the piece. So, combining those two things – a pattern and some wool thread – I launched in.
However, a pattern and thread is not enough.
If the writer sits down with paper and pencil and no plan and no "vision," do you really think a literary masterpiece is going to emerge? Probably not.
The better you plan, the less frustration along the way, and the more likely you'll come to a satisfactory end.
Now, in working with kits, the planning is already done for us. The embroiderer who wants a fairly frustration-free experience can opt for kits, pre-planned, with all the materials right at the fingertips, ready to go. This is GREAT. I love working kits! Kits from great designers like Tanja Berlin, Trish Burr, Jane Nicholas, Alison Cole – oh, yes, please! They satisfy my desire to embroider beautiful things.
But with the wool pomegranate project, I wanted to explore a bit. To play around with wool, and to do it on a design that I think is kind of neat. But that's all I really thought about when I stepped forward with the project.
The result: frustration.
(Proper Prior Planning Prevents Poor Performance!)
Do you ever find yourself working on an embroidery project and running into a frustrating or complicated area, and then putting the project aside until it withers away, forgotten, in a stack of similar unfinished attempts? Well, the way I see it is this: in situations like that, the only way you ever find peace is to make a decision either way. Either I'm going to do it, or I'm not going to do it. When dealing with an embroidery project, it's not as if we're talking about a moral decision here – whichever way you decide doesn't really matter in the whole Scheme of Life, if you're willing to swallow the expense of the project or the time you've put into it. You can chalk both of these up to Experience, because at least you do get some experience out of incomplete projects.
To surmount difficulties like this, re-think where you are going, what you want to get out of the journey, and what it will take to get there. Ask for input from a friend, if you need to. Clarify your objectives. And then make a decision: either go forward, or don't. If you decide to go forward, bite the bullet and get to work! Once the frustrating part is out of the way, the rest will be much easier – and much more fun!
With the Pomegranates, having run into the Wall of Frustration, it's time to scale the wall – to re-think what I was doing and where I was going with it. With a little help from a friend (it's always great to have a friend or family member to consult in these situations), I've clarified some aspects of the project that will help me over the wall and get back on track.
Here are some of my current clarifications on this project:
1. This is a wool embroidery project, not a crewel project, which makes a difference in the way it is approached. (We'll talk more about the difference between the two later on!)
2. As a wool embroidery project, I can interpret things pretty much any way I want to, as long as the type of stitching works with my fabric and threads.
3. I can also incorporate other media into the project – it does not have to be strictly wool. Whether or not I do this is part of the planning.
4. I need to loosen up a bit with the project and have a bit of fun with it. Getting over-persnickity just makes things worse!
I'll be playing with the pomegranates this weekend, and next week, I'll show you how far I manage to crawl on the project.
In the meantime, what about you? Have you ever run into similar situations with projects, and if so, how do you deal with them? What's your secret for forging ahead, or for guiltlessly laying aside a project to move on to something else? Will you share your thoughts with the rest of us?
Have a swell weekend!