Well, I seem to be on a Kit Kick lately, don't I? Today I'm highlighting a thread kit, which isn't quite the same as a full-blown embroidery kit, but it's sort of close.
You see, designers often design a piece of embroidery, and then, if the designer doesn't offer a full kit but just the design, a manufacturer or a shop might put together the kit of threads for that particular embroidery design, so that customers can purchase all the threads needed to complete the design in one tidy package. And that's what this is – it's a thread kit (with spangles), and it's been put together by Access Commodities for the Agecroft Sweet Bag project highlighted in the last issue of the EGA's publication, Needle Arts Magazine.
But there's more to this kit of embroidery threads than meets the eye, and that's actually why I'm excited about it. First, let's look at the original project the kit was assembled for:
In the latest (March, 2011) issue of Needle Arts, the instructions for the Agecroft Sweet Bag (designed by Catherine Jordan) is one of the featured projects. In the magazine, you can find the instructions for completing the sweet bag, along with the supply list and such necessary information. The supply list includes many shades of gorgeous Soie Perlee silk, along with gold wire #371 (for the vine work), spangles, linen, and so forth. If you're interested in working the project as it is presented in NeedleArts Magazine, you have to have the magazine, and if you're a member of the Embroiderers' Guild of America, then you probably have the last issue. If you're not a member, but keen to do the project, you need to get an issue – and you can do that by contacting the EGA. Individual issues are $7.00 each.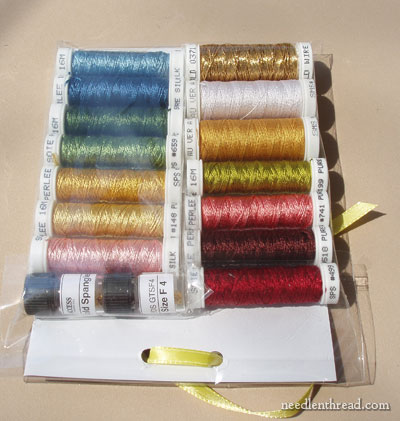 But this is the thing: even if you aren't interested in working the sweet bag as is, golly – the threads in this collection are stunning, and they can be used to work your own designs, too!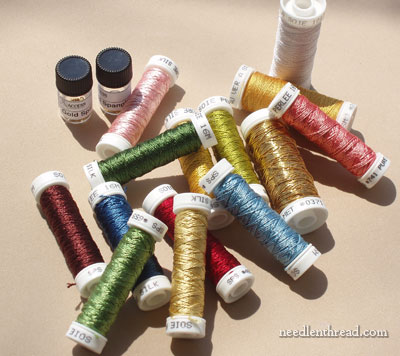 There are 13 spools of silk – 11 are Soie Perlee, and 2 are Soie 100/3. There's one full 15 meter spool of #371 gold wire, which is excellent for vine work in braid stitches or chain stitches, and for all kinds of other gold thread applications. There are two little vials of tiny spangles. And what project do you know of that couldn't use a spangle or two or twenty?! (Ok, I exaggerate… sort of….)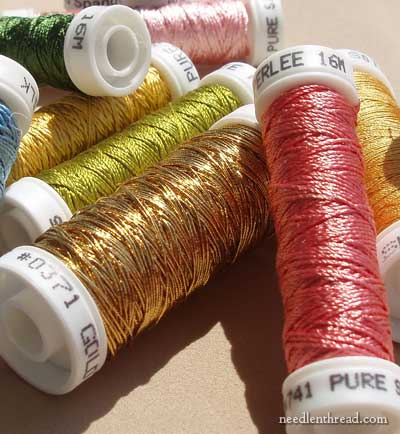 Ooooh. Yes. See, my problem is that I'm a thread junky. I admit it. And though I admit it can sometimes be a problem, I have definitely learned to live with it!
When I saw this collection of threads, I didn't immediately jump to the conclusion that I have to make a sweet bag with them. But I did recognize right away an excellent collection of colors and threads that would work together well for a fine embroidery project.
Not that I wouldn't make the sweet bag… But it's really the colors and threads that grabbed me.
And like I said, what can't I put spangles on? After all, when the things gleam from inside the jar, how can you resist them?
There are several ways to go about getting the Agecroft Sweet Bag thread kit: you can contact the EGA and order one (according to the magazine, they're $46 plus shipping & handling), or you can order the kit from various retailers that carry it. I think I heard that Traditional Stitches in Canada will be carrying it.