Lately, I've been working behind the scenes to accomplish a few minor updates here on Needle 'n Thread – things that have been hanging over my head for a looooong time! Though minor updates, for some reason, it took me forever to get to them.
The first update is over on the page where you'll find all the free hand embroidery patterns on the site listed, which you can reach by clicking on "Patterns" in the top menu of the website. A section dedicated to Hungarian Hand Embroidery Patterns has been added. This is where I'll collect all the patterns from Lilly's Legacy as they become available.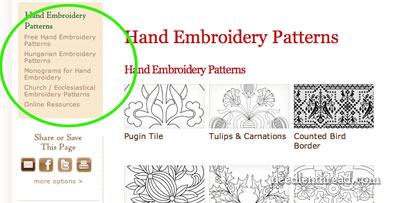 You'll notice that when you're navigating through any of the pages found in the main menu that there's a navigation menu at the top of the left column. All the links to any sub-sections of the area that you're currently in (for example, here, we're looking at the "Patterns" page) are clickable and will take you directly to that sub-section. On the "Patterns" page, the sub-sections are actually right there on the same page, but on other sections of the website (like the "Pictures" section), each link in the navigation menu on the left takes you to a new page.
These navigation menus are great for getting around the sub-sections of the site easily. They've been there all along – the only update I'm pointing out here is that the Hungarian Embroidery Patterns have been added to the navigation area, too!
Well, it's about time!! I've updated the Types of Hand Embroidery area on the site. You can access a (short and not exhaustive) list of various types of hand embroidery through this button in the right column of the website, and it will take you to a page that has a photo of index of types of hand embroidery. Each of those links will take you to a brief explanation of the type of embroidery with a few links to articles pertinent to the topic.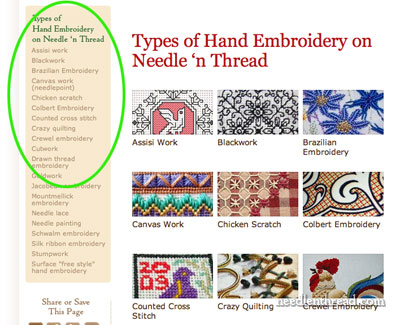 I've finally added Brazilian Embroidery to the list of types, and it's added to the navigation menu in the left column as well. That's been a long time coming!
There are plenty of other little updates coming soon. I'll be expanding the Types of Hand Embroidery, updating some information and links under the Tips & Techniques page, and generally just catching up on some loose ends here and there on the site. The how-to videos are going to get a little more attention, too – I've got several updated videos that I'll be putting in place this summer, as well as adding lots of new ones! (Summer's great for getting stuff done, isn't it?)
And speaking of summer, there's a Really Big Update coming to Needle 'n Thread in the next couple weeks. It's titled "Ask & Share," and I think it will be a fun and helpful addition to Needle 'n Thread! The title pretty much sums it up: Ask & Share. You'll find a Needlework Question & Answer section (where you can post questions and get answers); a Gallery section (where you can post your own pictures); a Stitch-Along, Swap, and Contest area; Needlework Classifieds; and a secure, private area for online needlework classes. I'm very excited about it, and can't wait to take you on a tour as we come closer to the launch date.
So that's the behind-the-scenes busy-ness here at Needle 'n Thread. I'm itching for the arrival of summer, so that lots of little plans can come to fruition!
Don't forget to sign up for my Mother's Day Give-Away if you haven't already. It's a great opportunity to get a hold of a beautiful crewel embroidery design… and if you wouldn't work it yourself, if you win, you can always give it as a gift to your favorite stitching friend!
Have a Wonderful Weekend!!