Today's one of those give-away days – for a lot of reasons! Not only is it my favorite time of year – with green grass and bright flowers and cheery sunshine flooding the landscape – but it's Friday. And not only is it Friday, but I've only got (officially) one more Friday left to the school year after today! (Exams follow… but let's not talk about that right now!) And on top of those pleasant thoughts, everything is coming up roses on the new website developments that will be showing up here on Needle 'n Thread in the very near future… and so… life being so good, things going so well, I feel it's a good time to pass along some cheer!
This is what I'm giving away: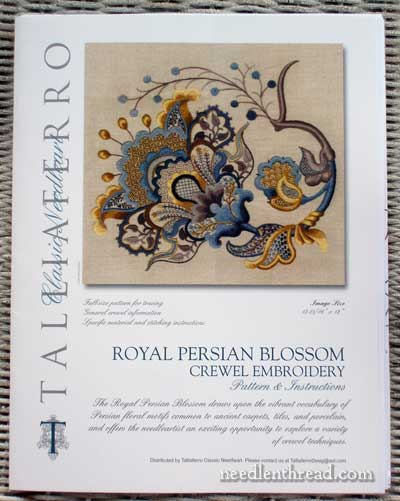 This is the Talliaferro Classic Needleart design kit titled Royal Persian Blossom, which I reviewed a couple weeks ago. You can read the review of this crewel embroidery design kit, to see more details of what's in it.
The give-away includes the design kit only – it doesn't include thread or fabric. Talliaferro designs are sumptuous crewel embroidery designs that are sold in a design package, but that leave you free to choose your threads and fabrics (though there are recommendations within the design kit).
If you've a hankering to launch into this magnificent crewel embroidery piece, then here's your chance to win your own design kit!
To enter the give-away, please follow the requirements below:
1. Leave a comment on this article, on the website, not via e-mail or on any other article on the website.
2. Make sure you enter a recognizable name on the comment form – for example, if your name is Pam, there are lots of Pams in the world, so please make sure your name is somehow distinguishable from others with the same name.
3. Answer the following question in the body of your comment:
Where's your favorite stitching spot?
4. The give-away ends on Mother's Day, 8th, at midnight (CST) and the winner will be announced Monday, May 9th.
This give-away is open to anyone, anywhere. If the winner should require international mailing, please understand that any custom fees, duties, taxes, and so forth are the responsibility of the recipient.
Now, your job today is to have an equally terrific Friday, and wherever you are, may the sun shine upon you, too!
The give-away is now closed. Thanks very much for participating!