Gilt Faconnee is a metal thread that's new to me. I've never used it before, and when I saw it the first time, I thought, "Hm. This is different."
In a sense, it is different. But in another sense, it isn't.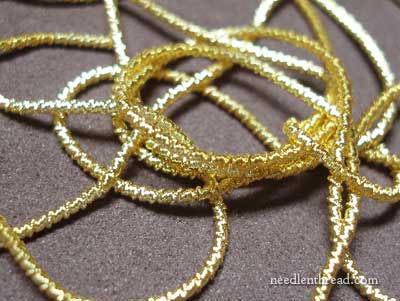 This is gilt faconnee. The name is odd – translated, I think it means "shaped," "fashioned," and maybe at a stretch, we could say "crimped." And if you take it at its literal value, it is shaped – it's a "shaped" check purl.
This is check purl, cut into chips for sewing onto a goldwork project. I used it a bit in my goldwork pomegranate, if you'd like to see how purl chips can be used in goldwork.
You can see that check purl (also known as bright check purl and frieze brilliant) is shaped, too, in a sense. See the faceted look to it? These facets give it a really nice sparkle!
Faconnee sparkles, too. But there's a little something extra to this thread, that differentiates it from bright check purl.
Notice that there's an extra ridge in the thread, that gives it a kind of "spiral wrap" around the tube.
Up close, you can see this spiral jutting out from the rest of the thread, like tiny flower petals. Oooooh. Sparklies. I do so love them!
Purls are tube-like springs made of gold wire, and they're pretty much all the same type of metal wire, just treated differently as each type is made. From left to right, there's smooth purl, which is a very smooth, bright and shiny tube; next to that is a "rough" purl, which is still smooth, but the gold isn't as shiny – it has a nice gleam, but not a high shine; next, is the gilt faconnee, and last is the bright check purl.
The gilt faconnee is not quite as faceted as the bright check purl, but that extra little jutting spiral around the thread gives the faconnee a really pretty texture.
So there's another real metal thread to add to your arsenal.
Some day, I'll try out this neat little metal thread. In the meantime, if you have any ideas for it, I'd love to hear them! Have you ever used faconnee in a goldwork project? Any tips? Feel free to leave a comment below!
You can find gilt faconnee at your favorite needlework shop that carries goldwork supplies. If you don't have such a shop close by (how many of us do?!), you can order it online. Tanja Berlin (Canada) is an excellent source for goldwork supplies. In the UK, you'll find supplies through various sources, such as Golden Threads, and Benton & Johnson. In Australia, try Alison Cole Embroidery, Mary Brown Designs, and Jane Nicholas Embroidery.