I've been kitting up all the embroidery supplies for The Nesting Place the last couple of days. I'll be launching registration for the class on Wednesday, August 31st, when you'll be able to see photos of the project and read all the delicious little details!
My favorite part of making up the kits for this class is working with little things. For example, I made a whole bunch of these tiny ribbon rosettes out of Mokuba ribbon.
They're part of a perfect little finishing detail for the needle book.
I also counted out little freshwater pearls. I love these! I love them for the slight irregularities that make each one different. I love them for their weight – they're not plastic, so, though tiny, they actually have some weight to them. And I love them for their pearliness.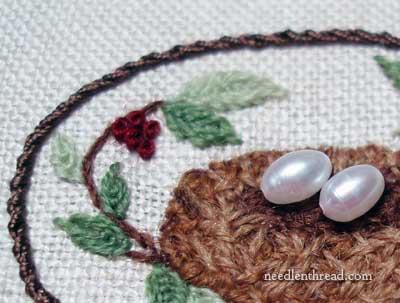 The Nesting Place is a six-week interactive online class, with step-by-step instructions, exclusive video instruction, and a full materials kit. The class will take you from the start of the project to its exquisite finish, with feedback and help along the way as you work at your own pace. Registration for the class will open on Wednesday, August 31st, when all the details of the class will be posted here on Needle 'n Thread. Class will commence Monday, September 19th. Space is limited, so if you're interested in joining me in this adventure, keep an eye out on Wednesday for the registration announcement!
And now, back to more Little Things….
Enjoy your weekend!