Have you heard of the Millenium needlework frame? Well, you know I harp a lot on slate frames and on Evertite stretcher bar frames, and I do love them both. But today, I want to show you a different type of frame.
Perhaps … the Last Frame!
It's true. I have a new love. It's the Millenium frame, and I'll tell you why as I show it to you.
Update, 2016: Due to an overwhelming amount of feedback from readers, I've adjusted my Pros & Cons list below. Please read it carefully! I still love the frames and their stand, but please be aware that lots of people have encountered some difficulties, which I detail in the Pros & Cons below.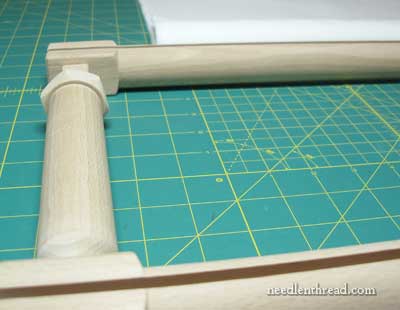 The Millenium frame reminds me of a cross between several things: a slate frame, a Japanese embroidery frame, and the old Victorian needlework frames with the screw extensions on the sides. It is the best of three worlds.
It's entirely crafted out of wood, and it is beautiful. Don't get me wrong, though – it's not decorative. The craftsmanship is beautiful. The frame "feels" good. It is solid – not cheap and wiggly or uncertain. You can tell by the feel that it is made to do what it's supposed to do, which is to support a piece of fabric pulled to high tension. There's nothing "cheapy" feeling here.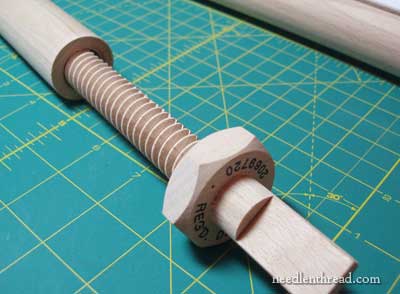 This is one of the side stretchers. Once the fabric is on the rollers (the top and bottom bars, just as they're called on a slate frame), these side bars extend (with very little effort) by turning the wooden "nut" (in the forefront of the photo), until the roller bars are pushed away from each other and the fabric is completely taut.
The first thing I did with the frame was set up two pieces of fabric in it.
I'm not sure if the frame is supposed to take both the ground fabric and a lining fabric, but I know I often stitch with both, so I figured I may as well test the waters, right? It worked fine.
No – I take that back.
It worked Great!
I extended the side stretchers to the length I wanted, to see how well the frame would accommodate the Marian Medallion project. After all, I figured if I didn't have to set up and lace up a slate frame again, or pin a hundred tacks into stretcher bars, I probably wouldn't cry.
Above, you can see the side stretcher extended, pushing the roller bars apart and supply tension on the fabric. You can also see, in the top roller bar, the small dowel that fits into the slip of the bar, to catch the fabric. This little dowel is ingenious. I've tried split rollers before, where you feed the fabric into the split in the roller, tighten up the roller to pinch the fabric, and then go from there. But I've never been all that thrilled with the tension that resulted.
The tiny dowel that feeds into the slit in the Millenium frame holds the fabric taut. Not just "sort of" taut. But taut-taut. Super-duper taut. Drum tight (practically board-hard) taut. And it holds that tautness all across the width of the fabric. So guess what?
No Lacing!
In photos, it's difficult to show how nice the tension is on the fabric. It's firm and evenly tight, from one side of the fabric to the other. And it took practically nothing on my part to achieve this.
I'm able to clamp the top roller of the Millenium frame into my Needlework System 4 frame clamp, but only because I'm not rolling the fabric on this project. The exposed project area is what you see on the frame. The clamp on the NS4 stand really pinches that folded over fabric there, and if I had to use that bit of fabric, I wouldn't use the frame clamp. Also, I have to rest the front roller on me or on the edge of a table, because the NS4 stand is not made to clamp round rollers. Needle Needs makes a specific floor stand (and also a lap stand / table stand) to hold the Millenium frame, but right now, I have to use what I have.
Now, to see how easy it is to set up your fabric on this frame and to get a better idea of what the frame is all about, I suggest watching the video for setting up the Millenium frame. The video demonstrates the whole concept much better than photos could.
You can watch the video on the Needle Needs website as well.
Pros & Cons of the Millenium Frame
Pros
1. It is So Easy to set up! Oh my goodness. I still can't believe I set up an embroidery project on a frame this fast – it took me about three minutes to get the fabric situated in the frame. Once you've watched the video and tried it out once to see what it's all about and how it works, you can set up a large embroidery project lickety-split.
2. The fabric is taut, from top to bottom and side to side. It is drum-tight, with even tension that's just as good as slate frame tension.
3. It is well made. Nothing wiggles, nothing sticks and needs fiddling with or anything. The wood is smooth as glass. The frame works just as it's supposed to work, without any grief along the way.
Cons
1. Update, 2016: Since I've received an innumerable amount of email from readers who have purchased products from Needle Needs, please be aware that there are some problems with ordering from the company. While my products came relatively quickly (way back in 2011), I'm not speaking from personal experience, but just from reader feedback. Here's the rundown:
a. Especially if you are outside the UK (I've heard from Americans, Canadians, Australians, and even some UK residents on this point), the products from Needle Needs can take a very long time to arrive. At first, I was hearing from readers whose orders took 3 – 4 months to arrive, then 4 – 6 months, and then longer than 6 months to arrive, and lately (in 2016), I've been hearing from people who have been waiting 8 months, 9 months, and even over a year.
The reason for this is that the items are handmade by one person. They're not made in a huge production facility and they aren't stocked in a warehouse, ready to ship. Under those circumstances, as interest in their needlework frames increases, the wait becomes longer and longer.
b. The company has some issues with customer service. Email inquiries about orders – even when people have been waiting six months or longer for their orders – often go unanswered.
That being said, I have not heard from anyone who has never received their order – eventually, the orders do arrive. Some readers suggest calling the company if you are curious about the status of your order.
c. Payment seems to go through as the order is placed, regardless of how long it takes for the company to fill the order. Unfortunately, given the long wait times, this creates worry – most of the email inquiries I've received resonate with worry that they've paid for their product but are never going to receive it.
The Upshot: If you order items from Needle Needs, be prepared to wait for them!
2. Relatively speaking, some may find the price a bit high. For those of us who don't live in the UK, there's that whole question of shipping. BUT (there's always a but – and in this case, there are several…), that having been said, it is hand-crafted of quality wood, it is convenient to use, and it works. You get what you pay for! Also, when it comes to shipping, those outside the UK / EU don't pay VAT on it, and that goes a long way towards paying the shipping. And the other but: you can order one set of rollers and one set of side stretchers and fit a good range of project sizes on it.
The Millenium Frame, in Summary
The Millenium frame is a stroke of genius. I love it. I-love-it-I-love-it-I-love-it. Does this mean I will never use a slate frame or Evertites again? Well, not necessarily – I will probably use Evertites for little projects. But if this frame holds up like the champ I think it is through the whole Medallion project, I can see myself very strongly favoring it over the slate frame.
Feedback?
What about you? Have you tried the Millenium frame? Do you use it? Do you like it? Have you seen it in person? Your comments and input would be quite helpful to others out there facing the "What Frame to Get" question. Feel free to let us know your thoughts – leave a comment below!
Disclaimer: I wrote to Needle Needs to inquire about the cost of the frame including shipping, because several readers had asked me about it and I wanted to test it. I don't mind investing in products to test, because I think it's helpful for the whole industry and for you. Mr. Crane kindly sent me the set featured above, gratis. But I would not rave about an item if I didn't like it. I don't review items that I don't love and use. And just to make it clear how much I like the frame, I forthwith ordered another size of side stretchers and two more sets of rollers. Eventually, I'll invest in the third size of the side stretchers. This frame is a keeper, and I'm looking forward to long years of service from it.