The art of drawing and the art of hand embroidery cross paths quite often. Designers, for example, draw. They even make it a point to practice drawing and keep sketch journals and so forth. And then there's the whole question of using drawing pencils and pens for design transfer, right?
But here's a little tip for you on a drawing supply that can save you quite a bit in your needlework budget.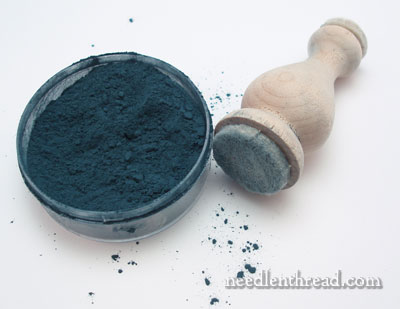 In the photo above, you can see a little round plastic container of pounce powder that I bought at Lacis ages ago. They don't carry this brand anymore, but when I bought it, I spent around $20 for the white and the grey pounce in this little quantity. There was about 4 tablespoons of powder in the container, new. Lacis carries Spolvero powder now (an Italian dusting powder often used for transferring designs to ceramics or enameled ceramics before they are painted), in blue and in white.
If you live in Canada, ordering Tanja Berlin's charcoal for pattern pouncing might be a more economic choice. She sells just the charcoal (which she prepares herself) in an 18 gram tub or a 75 gram bag. Both quantities will last through quite a few transfers!
If you live in the UK, ordering pounce from Sarah Homfray is a good choice. She sells a prick & pounce transfer kit as well as pounce powder refills (25 ml quantities in each refill – that's about 2 US teaspoons, or 6 UK teaspoons), in black, grey, and white.
But what about drawing supplies and hand embroidery? Well, that's just it. At your local art store, you may be able to find pure charcoal powder among the drawing supplies.
For example, this charcoal powder is an excellent buy. It's a 6 oz (180-ish grams) jar. You can find General's Pure Powdered Charcoal online through Blick Art Materials for just over $9 for the jar. They've changed the labeling since I bought this jar, but it's the same stuff.
I've been using this jar for a while now and I haven't even made a dent in it. Unless you do high volumes of embroidery transfers, the quantity will last a life time.
So, the point: when you're looking for particular tools or supplies that will perform a certain embroidery-related task for you, but you find them pricey or out of reach, think of other art-related or tool-related areas that might require the same type of supplies. Often, you'll find the same supplies that are packaged and sold for textile arts (needlework, sewing / quilting, etc.), packaged differently and sold for other purposes. And you may find an alternative tool or material that will do exactly the same job just as well, for a smaller investment.
There's a bit more on this subject coming up. I've got a re-packaging doozy for you – a somewhat common material repackaged for the textile market by a very well-known company, with a price difference that's really phenomenal. Marketers, you see, are geniuses, and packaging is apparently everything!
Enjoy your weekend!