Today, I thought I'd show you some photos of a large piece of Battenberg Lace and tell you a little bit about how this piece came about.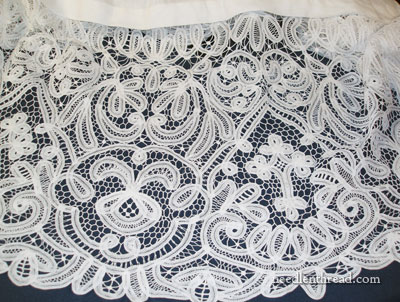 This is a large piece of Battenberg lace trimming the base of an alb, which is a white garment worn by a priest underneath the chasuble (which is the outer, more decorative vestment that most people are more familiar with).
Making albs can be a costly undertaking – there's the cost of a goodly bit of linen for the majority of the garment, and then the cost of the lace. Decent lace, and especially "liturgical" lace, is relatively difficult to find, and when it is found, it's often expensive. Today, most readily found liturgical lace is machine made, not necessarily too attractive, and still pretty pricey stuff. (If the words liturgical, ecclesiastical, or church are tacked onto any textile, it seems to automatically triple in price.)
About two years before his ordination date, the priest who made this lace decided he wanted a certain type of lace at the base of his alb, and instead of finding a place to buy what he wanted or tracking down someone to make it for him, he decided to make it himself. Taking an older alb with a similar lace on it, he started by drawing out the design by hand.
Then he figured out everything he needed to know to make Battenberg lace – he found a source for the tape and threads, learned the techniques and stitches involved, and eventually he achieved what he wanted to achieve.
It took him two years to finish the piece, which is about 25″ deep and just under 3 yards in length, meeting end to end with no seam. That's a lot of lace tape… a lot of stitches… a lot of time! But the end result is quite beautiful. I think it's admirable that he made it himself.
The moral of the story: if you want something badly enough, all it takes to achieve it is a little bit of patience and a Whole Lot of Determination!