A mellor is a goldwork tool. I've seen it spelled "mellor" and "melore" and "mellore," depending on the source. Today, I'm calling it a mellor. Tomorrow, I might call it a mellore. I think it's too late to dictate the absolute spelling of the thing. But however it is spelled, the mellor is a tool used in goldwork, and it's a handy little thing to have.
Since we all have our Favorite Tools (and I'm pretty sure many stitchers become inordinately attached to certain tools, so much so that life would alter significantly without them), you can take or leave my assertions about the mellor. You see, I'm inordinately attached to certain tools, and I'm fiercely loyal to them. Insult my tools, and you insult me, says I. I stand up for my tools. I fight for them – Stiletto Wars to the Death!
Ok, ok! Perhaps I wouldn't go that far, but I do like my tools, and there's a reason I like them. So let's talk about the mellor-melore-mellore.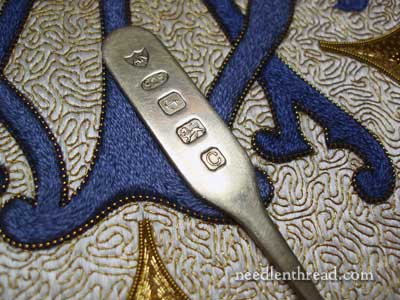 My mellor, I adore. It helps me do more. It makes my heart soar. How I love thee, my mellor!
The mellor is paddle shaped on one end and pointed on the other. It's used to manipulate goldwork threads so that the stitcher handles the threads less.
The mellor you see above is made of sterling silver. Besides giving one the ability to be able to say in slightly superior tones, "Oh, yes. That is my mellor, and it is made of Sterling Silvah" (as if that's some claim to tool superiority), there is a reason the mellor is made of sterling silver. It isn't a Snob Thing. It's a Tool Thing. The mellor is meant to poke and prod relatively delicate goldwork threads. Silver is a softer metal than stainless steel. Silver is apparently a bit gentler on gold threads, compared to stainless steel. And hence, the silver mellor.
That being said, there is a stainless steel version of the mellor available out there, and it is shaped the same way and is made to do the same things. It does have a hole in the paddle end of it, though, and this is a puzzlement to me. The hole is meant to make it attachable to a chain or chatelaine. But if the paddle end is used regularly (I use it more than the pointed end, personally), I would find the presence of a chain through a hole in the paddle a bit of a bother.
The paddle end of the mellor is curved and smooth, with blunt rounded edges (no squared edges). This makes it perfect for pushing and prodding gold threads into line.
The pointed end of the mellor can be used as well to poke and prod goldwork threads. I use it to hold threads out of the way, or to prod threads in tight spaces, where the paddle end doesn't fit. The pointed end can also be used to widen plunging holes, when plunging heavier threads. Though the mellor has a blunt tip, the tapered little shaft will create a larger hole when it is pushed into the fabric. This end of the mellor can also be used as a laying tool. Personally, I prefer a longer laying tool (the tapered end of the mellor is rather short), but I've used it as a laying tool and it does work.
Here's the question: Is a mellor necessary?
If you're just getting into goldwork, I'd say no, it is not absolutely necessary. You can achieve many of the same results with the blunt back end of a pair of tweezers that you can achieve with a mellor (though that wider paddle end does come in really handy when prodding lines of thread!). And as for the tip of the mellor, you can achieve many of the same results with the front end of a pair of blunt tweezers.
Will the mellor become more necessary as you progress in goldwork? Yes, I think so. Sure, you can do goldwork without it altogether. But I have this thing about tools: I'm a firm believer that the right tools make the job easier. And the mellor is a great tool for stitchers who work with metal threads. It's designed just for this type of embroidery, and does do a "real" job. It's not just a decorative tool.
So, that's the mellor. You can find them at shops that carry goldwork supplies. Tanja Berlin (in Canada) carries both the silver and stainless steel mellor. And you can always ask at your favorite stitchery shop if they can special order one for you, if they don't carry them.
Any thoughts on the mellor? Do you see it as a superfluous tool, or one that is necessary, or one that would be nice to have? Do you use one? Have you seen them but wondered what they were for? If you don't do goldwork, can you see other uses for the mellor? Are you a tool fanatic and feel the need to come forth and admit it? Feel free to talk tools below!
If you'd like access to all the tips and techniques discussed in the Medallion Project, including complete step-by-step coverage of the Tudor-Style Rose, conveniently collected in one document, interlinked, referenced, and indexed, why not add the Marian Medallion Project e-book to your library? It's packed full of all kinds of embroidery tips for undertaking a project like this, all in a convenient electronic format for easy searching.