Yesterday, we discussed English needles and the manufacturing of needles today. Most embroidery needle manufacturing in the world has been outsourced to regions where they can be produced with cheaper labor. As one reader commented, "the world is changing… and nothing is as it was or will be again."
It may well be that the world has changed to the Cheaper Labor / Higher Returns model in manufacturing, and I do sympathize with the Producers of Goods who have been pretty well forced into that model, but there are companies in the needlework industry that have resisted that model. And these companies, in general, produce higher quality needlework products.
When it comes to needles, in Europe, there are still some factories that manufacture sewing needles. The best known of these is the Bohin company in France. Apparently, there is a manufacturer in Spain as well, but I haven't been able to track that down and verify it.
Bohin is a company that's been operating in France since the 1830's. In the 1860's, the company began manufacturing needles and pins. So they've been doing the needle / pin thing for a long time. Their needles are still made in their factory located near L'Aigle, France.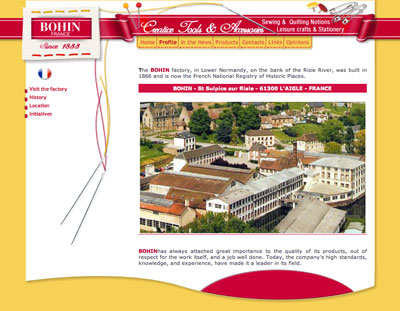 You can read about the history of the Bohin company on their website. While there, do check out the page of historical photos, where you'll also find some images of their ads from days of yore. Lovely stuff! You might also enjoy these photos of the needle and pin-making process at their factory today.
Bohin needles, overall, are excellent needles. They are strong, they are smooth as glass, and they are well made. I like them very much – I just hope that someday, they will produce a #12 embroidery (crewel) needle! Then I'd be in Needle Heaven!
What I like about the company is that they have resisted the "outsourcing" model, and they have maintained their company with integrity. They've kept up with trends, they've expanded to other sewing products that are particularly useful (I like Bohin's ceramic pencil, especially for transferring designs on dark fabric), and they really set the industry standard with their needles.
Now, that's not to say that every single needle that comes out of the Bohin factory is absolutely perfect – you may occasionally come across a flaw in a Bohin needle, as one reader noted in the comments on yesterday's article about English needles. But in general, I find Bohin's needles to be consistently better than any other embroidery needles available today.
Now, what does all this musing about needles mean? Does it mean I'll never use another needle, besides Bohin's? No, of course not! I have a stash of needles that will last me quite a while, and I'm not one to waste what I have. But I am more aware now of where my needles come from, and, when I have to purchase new needles, I do look for Bohin needles. Price-wise, they are competitive, and quality-wise, I think they're superior to other needles. At the same time, when people ask me what embroidery needles to use, I recommend Bohin needles, if they can find them. (They're not always easy to find!)
So that's the needle talk. Needles are an important discussion, methinks. After all, without needles, how far would we get with our thread?