Yesterday in her article English Needles No Longer Made in England, Trish Burr brought up a subject near and dear to my heart: The Needle.
A couple weeks ago while I was in a frenzy of stitching, my needle snapped. This has happened before, but normally with inferior quality needles. I was surprised this needle broke. After all, it was an English needle, and English needles have always been synonymous with superior quality needles.
But was it an English needle, really?
A Good Embroidery Needle
Now, I'm not one to be romantic, emotional, or affectionate about my needles, as if they are living things. The needle is simply an inanimate object – a tool with which to do a job. When it breaks, it goes the way of any item that is broken, unrecoverable, and no longer functional. It is disposed of.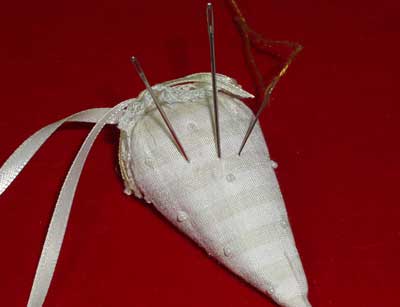 But that's not to say I don't like and appreciate a good needle. A good needle is a needle that is free of flaws, that does its job, that holds up for a reasonable amount of time. I do become attached to a good needle, but I don't shower affection on it. I am not sad when I lose a good needle or break a good needle, but I am irritated, because it is inconvenient to lose or break a good needle.
The Fine English Needle
Trish brought up a sad fact about the embroidery needle industry today – and it's something that I've been musing about for a while. For a very long time (hundreds of years), the English needle has been made in England, and it has always been a quality needle. The phrase "Fine English Needles" has been an attraction to hand stitchers for eons, and those of us who have been embroidering for a while have probably bought packets of needles simply because they were adorned with that phrase: Fine English Needles. Doesn't it just sound like you're guaranteed some darned good needles out of that package? Of course it does!
And Seekers of Good Needles received quality needles in those packages. English needles were really good needles. Why? Because they were produced to an industry standard, and an excellent industry standard, at that.
Unfortunately, with the high cost of manufacturing at home compared to the low cost of manufacturing in other countries, the English needle has gone the way of many, many manufactured goods. The companies that own the familiar names of English needles apparently outsource their manufacturing of needles to countries where labor is cheaper, and, apparently, there is no longer a needle-making industry in England.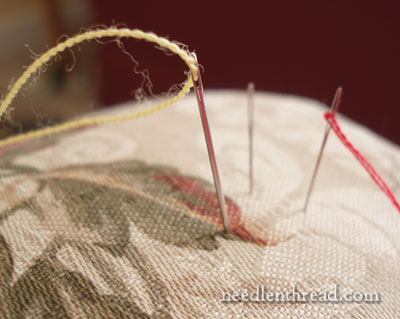 A while ago, after hearing from another manufacturer that English needles are no longer made in England, I was curious. I wanted to know when the shift in meaning occurred for the phrase "English needles," which is used so often in marketing needles here in the US. This used to mean they were made in England. Now it apparently means the name brand is held by a company in England, but the needles aren't necessarily made there.
I wanted a company that produces English needles to tell me yes or no – are they, or are they not, made in England? And when did they stop being made in England?
I easily followed the John James trail to Entaco Limited, a British company situated in Worcestershire, which, as they say on their website, is an area "known as the Needle Capital of the World." Well, that's jolly! But are your needles actually made there? That's what I want to know! The trail grew a bit cold when I contacted the company a few times to get an answer.
The answer never came. And so I scoured the website, looking for the phrase "Made in England." I wanted some assertion that the needles are actually English needles. I went through every picture on the website, to see if I could find photos of packaging that read "made in England" or even "English needles" (which is how they are often marketed in the US). Every photo of packaging features the top half of the package, so no help there.
Does Quality Change?
The demise of the needle industry in England means a lot of things to the needle connoisseur. The workers who produce outsourced products do not generally have a vested interest in holding companies that supply business to their factories, or in the items they are producing. Pride of workmanship and pride of "ownership" are no longer elements in the manufacturing process. For the consumer, this means that needles that were once guaranteed to be superior quality are not necessarily as superior in quality. And the consumer can rightly wonder if the products are up to the same standard that they were before.
I like John James needles. I use them quite a bit, and I'm sure I will keep using them – at least until my favorite needle types & sizes are produced by another needle manufacturer (I'll talk about them next time we talk needles). I still have quite a few packs in my stash that read "Made in England," and I opt for needles from these packages before I opt for the ones in newer packaging. I think I notice a difference in them. And of course, the broken needle above from a new package of needles seemed to confirm my suspicions.
The Romance of the Needle
But maybe it's just me. Maybe it's a psychological thing. Maybe I was too attached to the notion of the "Fine English Needle" – to the idea that the needle I was wielding came from that great land that has produced so much beautiful embroidery. Perhaps I am to romantic about my needles.
What about you? Have you noticed any shift in the quality of the needles that you use? Do you have any preferences for a particular brand of needle? Do you think I'm nuts to really care about whether needles marketed as "English needles" in the US are really made in England? What's your take? Have your say below!
If you want to read a little bit about the history of needle making, you can find The History and Description of Needle Making (1862, by Michael Morrall) available online at Internet Archives.