It's true. There is no fabric quite like linen. When it comes to hand embroidery, linen is, in my mind, the ideal fabric. And there are many, many reasons why it is the ideal fabric. But there is one reason that shines beyond all the others: one Grand Reason that linen is the bee's knees when it comes to hand embroidery.
And that reason? I'll call it Flexibility. That sounds so very positive, doesn't it? Linen is flexible. It can be used for a host of applications in embroidery. It can be used for counted work. It can be used for free style, surface embroidery. It can be used for goldwork. It can be used for needlepainting, for whitework, for blackwork – you name it! When it comes to practically any kind of hand embroidery, linen steps up to the plate! (With a few minor exceptions.)
But that's not the Flexibility I'm talking about. Flexibility in embroidery can mean a lot of things. It can, for example, be the flexibility that the embroiderer has when it comes to changing her mind.
Some people may call this Fickleness. I prefer Flexibility.
With linen, you can be perfectly flexible. You can change your mind without any worry of ruining your ground fabric. Of course, you might ruin stuff that's already on your ground fabric, but with linen, you can rest assured that, if it is good, quality linen, it will withstand the rigors of Un-Stitching. Frogging. Ripping Out. Demolition, as it were.
The toughest threads, the stiffest metals, the waxed silks – these can be pulled and tugged and coerced out of a piece of linen fabric with nary a bad effect on the linen.
Prying, yanking, prodding, snipping, picking – you can have at it on linen, and your linen won't mind a bit. Even if you feel rather torn apart over the experience, your linen won't.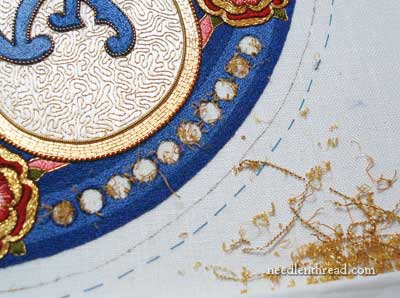 Despite the mess you make with your threads…
… (after all, many threads will not withstand destructive force… they will melt into Thread Carnage…)
…your linen will come through like a champ!
Go, Linen!
I love you!
If you'd like access to all the tips and techniques discussed in the Medallion Project, including complete step-by-step coverage of the Tudor-Style Rose, conveniently collected in one document, interlinked, referenced, and indexed, why not add the Marian Medallion Project e-book to your library? It's packed full of all kinds of embroidery tips for undertaking a project like this, all in a convenient electronic format for easy searching.