Barbara Suess's new book, Temari Techniques: A Visual Guide to Making Japanese Embroidered Thread Balls is out, and is it a beauty! If you are familiar with temari and fascinated by the art, this is definitely a book for you! I've gone a few rounds with temari myself – I made this temari ball for my niece, for example – but I've always wanted to venture further with the it. And now, I think I definitely will! Barbara Suess's book is inspiring!
One thing about the book: it is loaded with gorgeous photos of Japanese embroidered thread balls. I always tend to be drawn to a book by visual interest. Yep, I'm the type who looks through the book at the pictures first.
There are some amazing temari in here!
I love this group. At one point in the book, Barb suggests using the embroidery stitches you already know to decorate temari, and these embroidered spheres are a perfect example of doing that. They're covered with flowers made from detached chain stitch (daisy stitch), French knots, straight stitches, fly stitches – all simple embroidery stitches. And they are beautiful!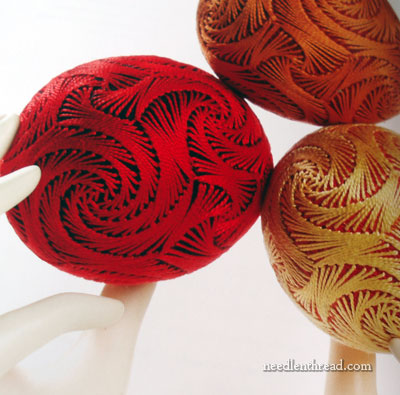 Every section of the book highlights a delightful collection of these works of art.
But of course, pictures aren't everything. The book begins with the story of the art of temari – what the are and where they come from, how they developed, and so forth. And then – the instruction! The book is chockfull of instruction – step by step lessons for constructing and decorating your own temari, from making the core to the finishing touches.
Throughout the book, helpful tips are highlighted in the margins and footers, to make your temari adventure a successful one.
There are clear diagrams for dividing the temari ball into basic sections and more complex sections.
This is the most thorough temari book I've seen – there are so many possible combinations and divisions covered in here, that I'm pretty sure if you only had one book on temari and this were it, you'd be well occupied for life in creating all the possibilities!
So while I'm impressed with the aesthetic appeal of the book – it really is gorgeous and would stand alone as one of those "coffee table" books – it's the instructional content of the book that really sells me on it. After all, what's a technique book, without good instruction?
And of course, there are plenty of instructions for specific designs, grouped into stitching different types of shapes, from simple to complex. The beginner can start at the beginning of the book and worth through the various sections on stitching and wrapping, and be a pro by the end of the book.
There's a beautiful section on challenge designs, so if you already have experience creating temari, you'll still have plenty here to challenge you.
The books is extremely well organized, from beginning to end. At the end of the book, there's a great pictorial index, so you can easily look up the kind of design you want to create. I love this!
You can find Temari Techniques available on Barb's website. For those who order through her, she includes her instructional pamphlet on making temari eggs:
The idea of making temari eggs enchants me more than making the regular spheres… I see them in all kinds of applications, from Christmas tree ornaments to Easter basket additions to housewarming gifts. I'm not sure why I'm drawn to the egg shape more than the sphere, but I am! And you rarely see a really thorough covering of egg shapes in temari books. So I'm happy to have this extra instructional booklet.
Where to Find It
You can find Tamari Techniques available through the following book affiliates:
In the US, Tamari Techniques is available here through Amazon.
You can also find Temari Techniques through Book Depository out of the UK (they have free shipping worldwide).