The Hungarian Braided Chain Stitch (also called the Hungarian Chain Stitch or the Hungarian Braid Stitch) is worked in a manner similar to a reverse chain stitch or a heavy chain stitch, with one notable difference that gives a completely different look to the line.
I love this stitch! It is fun to work, it works up rather quickly, and it can be used anywhere you want a heavier chain-stitch-like line that has a bit of texture to it and looks braided. It really is a lovely stitch!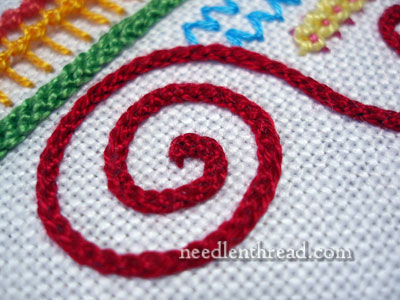 The Hungarian braided chain stitch works well on straight lines, gently curved lines, and even on tightly curved lines. Practically anywhere you can work a chain stitch, you can work this stitch.
In most books, you'll see the stitch diagrammed in such a way that it looks really easy just to follow the diagram – but in fact, it can be rather frustrating to work when you try to pick up the inside stitch. In the video, I'll show you the easy way to do this.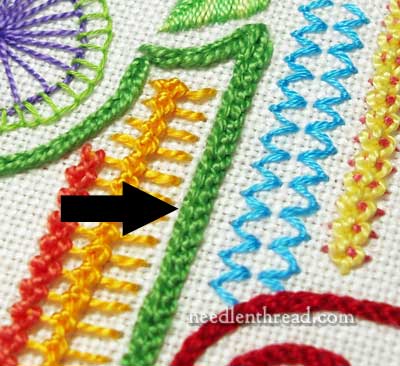 Another point about the way the Hungarian braided chain stitch is diagrammed in books: it is usually shown worked from the top of a line, towards the stitcher. You can actually work this stitch in any direction – left to right, right to left, top to bottom, bottom to top. I find it easier to work the stitch away from me rather than towards me. It's worth taking some time to play around with the stitch to find out which way is more comfortable for you to work it.
Here's the video – I hope you enjoy it!
For more hand embroidery stitch videos, feel free to visit my collection of embroidery how-to videos here on Needle 'n Thread! You'll find over 70 hand embroidery videos there to help you learn various stitches to add to your hand embroidery projects.
Looking for inspiration & information on hand embroidery?
There are all kinds of reasons to sign up for the Needle 'n Thread daily newsletter! Check them out and sign up today!
If you like what you see on Needle 'n Thread, if you want to be a part of keeping the website thriving (and free of annoying network advertising), why not become a patron on Patreon? Check out my Patreon page here, where I'll occasionally add special needlework bonuses for patrons.
If you shop on Amazon, you can support Needle 'n Thread without any extra expense to you by visiting my Amazon Recommendations page here, where you'll find books and sundries for the needleworker available on Amazon.