If you're ever stuck wondering just what stitch to use to fill a leaf and you start browsing through a stitch dictionary for a little help, you'll find out that there's a regular glut of filling stitches that work well for leaves. But there are two stitches in particular that I think make really nice leaves: the fishbone stitch and the raised fishbone stitch. If you have trouble creating a nice looking satin stitched leaf, never fear! The fishbone stitch and the raised fishbone stitch will come to your rescue. They both create a satin-stitch-like filling, but because the stitches overlap in the center of the leaf, you get a nice, subtle spine right down the middle of the stitch.
Today, I'll show you how to create a raised fishbone stitch leaf.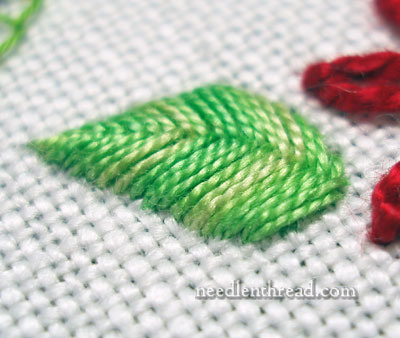 Incidentally, the different between the fishbone stitch and the raised fishbone stitch is more than just the fact that the raised version sits higher on the fabric. It's also created a little differently – it is stitched practically backwards, when compared to the movement of the regular fishbone stitch.
But you can see in the photo above that the raised fishbone stitch creates a nice, plump leaf that's quite pretty!
I hope you enjoy the video! I think I sound a bit weird in it, but not weird enough to record it over again…
If you're looking for other embroidery stitches, please feel free to check out the rest of my embroidery how-to videos!
Looking for inspiration & information on hand embroidery?
There are all kinds of reasons to sign up for the Needle 'n Thread daily newsletter! Check them out and sign up today!
If you like what you see on Needle 'n Thread, if you want to be a part of keeping the website thriving (and free of annoying network advertising), why not become a patron on Patreon? Check out my Patreon page here, where I'll occasionally add special needlework bonuses for patrons.
If you shop on Amazon, you can support Needle 'n Thread without any extra expense to you by visiting my Amazon Recommendations page here, where you'll find books and sundries for the needleworker available on Amazon.