There are some types of embroidery that I'm just drawn to, like the proverbial moth-to-flame scenario. This particular piece of 19th century ecclesiastical embroidery is one of those pieces that twitterpates me.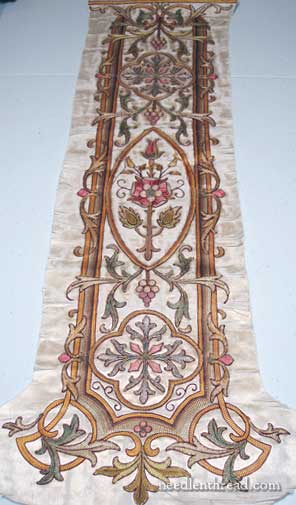 But horror of horrors! Unlike the gentler, more historically sensitive among us, who would immediately think of how a piece like this should be preserved and minimally and gingerly handled, my first thoughts and actions generally run along more… um… destructive lines.
Before I get to the point of deciding how the piece can be preserved (or if it can), I poke it and prod it, pick things off it, cut things from it, and bend it and examine it, rub over it with charcoal (ok, with paper in between….), and pretty much put it through the wringer. Well, the gentle wringer, but the wringer, nonetheless!
If I horrify you, please pardon me in advance and chalk it up to Learning.
Ultimately, of course, I will contemplate how this piece can be preserved and displayed in my studio. I think it is beautiful.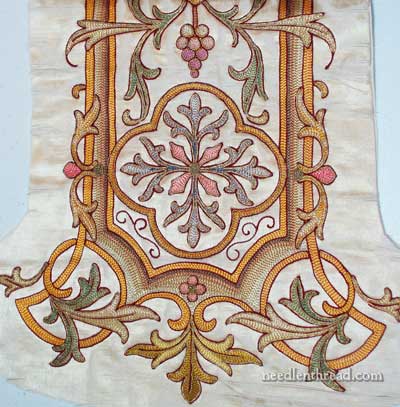 This piece of embroidery is mid to late 19th century. It's worked on a silk ground, and it has been cut from the front of a chasuble it once adorned. (I didn't do the cutting – the panel was a gift from Larissa, who also sent me the goldwork medallion I showed you the other day. She acquired this piece as is.)
The ground fabric is silk, and it is backed with a very fine linen. The stitching is done through both layers. The silk ground is disintegrating in many places, with the weft threads dissolving away.
All the silk embroidery is worked in one stitch: the chain stitch. It is, in fact, tambour work.
As you get closer to the embroidery, the tambour work become more apparent. While you can't see individual chain stitches at this point, you can definitely see the "texture" of the stitches.
Tambour work is a type of embroidery that's performed with a tiny hook – almost like a latch hook used for making rugs, only teeny tiny. Most tambour work today is seen more in the world of haute couture, or high fashion, where tambour work is used extensively for bead and sequin embroidery. But the basic tambour stitch is really just a chain stitch that's made with a hook, and the technique was used extensively through the mid-20th century in ecclesiastical embroidery. Why tambour work instead of regular chain stitch? Tambour work is a much quicker way of filling an area with even rows of chain stitches. Worked by a master, tambour work can convey shading and detail, and can do it with a rapidity that can't be had with a regular needle.
As you get closer to the work, you start to realize that metal threads adorn the whole piece – they are part of the outlines on every element and are used as accents here and there. There are several types of metal thread used on the piece. All of them have oxidized pretty much, so there's no gleam of gold here. In fact, you don't notice the metal threads from a distance at all.
But once you do realize they are there, and that they are all over the embroidery, you start to imagine how this must've looked when first embroidered! While the silk is still lovely, think of how that gleam of gold would have added another level of life to the piece!
You can see in this photo the wraps on the passing thread. Over on the right, towards the top of the photo, there's an area where the wraps have separated and the silk core is showing through. You can also see the chain stitches worked as a filling in flat silk, as well as the outline in chain stitch, in the darker maroon silk. This outlining silk has a definite twist to it. The silk used for the filling, though, has little twist to it – it looks like a flat filament silk. It has that soft, beautiful, luxurious sheen that confirms and justifies my love of silk thread!
These rows of brownish and neutral colors create the shaded effect around the main outline of the piece. If you look at the first picture in this article, you can see the shaded frame around the embroidery. It makes the central part of the design seem to stand out above the frame.
If you look closely at those rows of chain stitch, you can see that each row alternates direction. So the embroiderer (probably the embroiderers, plural) worked in one direction and then in another, back and forth on each area of the piece.
Here's another example of goldwork threads. This little tiny blossom is outlined with a gold twist, and the center is created with bright check bullion chips, piled up into a kind of rounded knot.
Here's another similar knot made from the bright check bullion. It isn't so bright anymore, is it? The same twist outlines the pink cross arms here.
The grapes are outlined with a rococco goldwork thread. This is a rippled, wavy goldwork thread that's couched on. You can see some goldish-yellow color around the outlines – that's the silk core of the metal thread, where the metal is missing.
Here, you can see the silk core closer up. It's amazingly kinked and ripply when the gold is removed from it! I think the core thread is beautiful!
There are, of course, some areas of more serious damage here and there on the whole piece of embroidery. But overall, considering the age of the piece and the fact that it was was obviously worn during the liturgy and used quite a bit (there are certain areas of rubbing on the fabric that correspond with a good bit of use), it's in pretty good shape.
If you step back just a tiny way from it, the silk embroidery is still sharp and clear, and although the metal threads have oxidized, in most places they are intact, and they don't really detract from the work, even if they don't add much to it in their current state.
I'd like to show you the central rose design element on the piece, too. It's in the area that's sustained the most damage, but it's still a beautiful piece of work! So, that's coming up – and then I'll let you see what else I've been doing with the piece and maybe we can discuss some ideas for displaying it.
I hope you enjoyed seeing this beautiful survivor of 19th century needlework, and that it inspires you in your own needlework pursuits!