Who won the RSN Essential Stitch Guide for Whitework?! Well, well, well… that's what we're here to find out!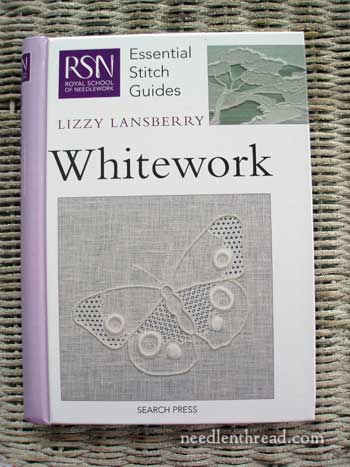 I love this book, and I think the winner will love it, too! I've been using it this week quite a bit, along with three older whitework-related books. I'll probably talk about those books some time down the road, too. The funny thing is, I'm not really doing whitework right now. Weird, huh?
But on with it!
The winner, who will receive a lovely brand new copy of the Royal School of Needlework's Essential Stitch Guide for Whitework is Mary Ann, who commented thusly:
Gosh – it is so hard to choose just one, but I do love turkey work. One of the first things I ever embroidered as a child was a picture that had a squirrel and I gave him a nice fuzzy tail.Thanks for the chance to win this really wonderful book. Mary Ann
Congratulations, Mary Ann! Please drop me a line with your mailing address, and the book will be on its way to you as soon as possible!
Thank you, everyone, for joining in. I loved all your comments! I think a common denominator with most of us is that it's hard to choose a favorite needlework technique. I'd have to say my favorite of all is… and…. and I also like… and… plus…. and….
Well, forget it. I can't choose one. I'm not sure why I asked a question that I can't answer. Sometimes, I'm just a meany.
If you want to add this nifty little book to your bookshelf, you can pick it up through the Royal School of Needlework. Purchases support the work of the RSN. You can also find it available right now through Book Depository (with free world-wide shipping).
This give-away was sponsored by me and is not a promotional give-away. I just like the book. And I want other stitchers to have the opportunity to like it, too!