The Royal School of Needlework has added to their collection of Essential Stitch Guides lately. The new title is Whitework, by Lizzy Lansberry. As soon as I heard the book was out, I ordered a copy right away – not only to review it for you, but also (and especially) because I love whitework. I figured if this book measures up to the other Stitch Guides produced by the RSN, then it's bound to be a keeper!
And it does. And it is!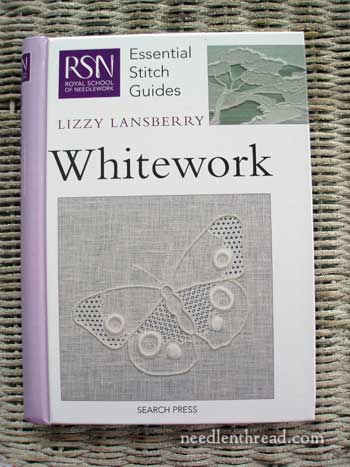 Like the other books in the Essential Stitch Guide series, Whitework is a small book with hard board covers and a spiral binding. I admit, I love the size and binding of these books! The books are about 9″ tall and 6″ wide, and the binding is that "full Canadian" spiral binding – they're bound with wire rings, but the outside cover covers up the spiral, so you really only see it when you open the book. I know book aesthetics aren't everything, but I appreciate this detail. Instructional books are meant to be used during work, and being able to easily lay the book open on the table is a nice, thoughtful detail.
But let's move inside the book, where the meat of the matter is. The book begins with an introduction, followed by a short history of whitework. Throughout the book, gorgeous examples of whitework serve as inspiration. In the introduction, the author clarifies that "whitework is an umbrella term" for white-on-white embroidery. And the book addresses whitework in this way – general whitework techniques.
There's the essential section on materials, which covers equipment, fabric, threads, needles – all that needful information! The author itemizes different types of threads that are used in whitework, which is nice information to have written down in one place, especially if you are just starting to explore this type of embroidery.
Next up is a section on design, followed by a section on designing your own piece. This section on design is important. As the Lizzy points out, in whitework, you're not working with color, which is often a key approach to designing other types of embroidery pieces. With whitework, texture and tonal contrast are the key, and in fact, this whole book is logically arranged around this point.
How does one achieve textural and tonal contrast in whitework? It is all about what you do with the ground fabric and what you do with the stuff you put on top of the ground fabric. So the book is arranged according to the order of work in whitework. The main instructional sections in the book, in order, are: pulled thread techniques on the ground fabric, core surface stitches, decorative surface stitches, eyelets, drawn thread work, and cutwork.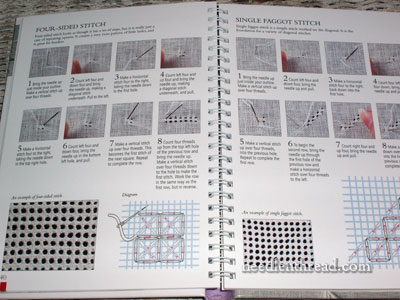 In each of these instructional sections, you will find thorough step-by-step photos illustrating the techniques, as well as diagrams and photos to illustrate the completed technique.
This instructional content is where the book really shines. It is logically arranged and thorough in its explanations. And, as is often the case with many instructional needlework books, the techniques taught herein can extend beyond whitework.
Then there are the "extras" in the back of the book – there's a useful section on taking care of whitework.
There's a section on using the stitches – putting into practice the techniques learned in the book. Keep in mind, this is not a project book, so this section does not lay out projects for you to work. Instead, it demonstrates, up close, how the techniques taught in the book were put into practice in various whitework projects.
Finally, there's a section on additional techniques that are often used in whitework, such as layering fabrics and working on net.
There isn't too much about this book that isn't likable, especially if you have even a hint of interest in whitework. It is concise, clear, direct – and best of all, it is logically arranged. The book makes sense. It's not just random information about whitework all compiled together. Rather, it uses the whole order of work in whitework embroidery to logically progress through the instruction in the book.
Where to Find It
Whitework by Lizzy Lansberry is an excellent little instructional book!
In the US, you can find the RSN Essential Stitch Guide for Whitework available here through Amazon.
The Book Depository also has Whitework in stock. It works out to about the same price right now, when you figure the currency conversion. But Book Depository ships free around the world, so you'll save a little bit on shipping.
You can find all my reviews for the other RSN Stitch Guides in the Books section here on Needle 'n Thread. Some of them are better than others – my favorites so far are Crewelwork and Whitework. The others are good, but I think the crewel and the whitework books are especially excellent. Can't wait to see a goldwork book in the same series!
This article contains affiliate links to Amazon and to Book Depository, which means that Needle 'n Thread receives a small commission for any purchase made through the link at no extra expense to you. Every little bit helps keep Needle 'n Thread going! Thanks!