In the world of hand embroidery, there is quite a variety of isolated knot stitches. The Chinese knot is yet another knot stitch that can be added to the list. The Chinese knot is often illustrated worked as a line or filling.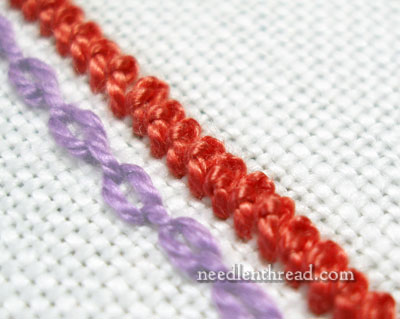 In this tutorial for the Chinese knot, I'm demonstrating the version that is found in many stitch dictionaries today. The fact is, there are other stitches that are called the Chinese knot, and within those Chinese knots, there are variations. In this video, the one I'm illustrating is the one worked in a line, and it has a little bit of a tail to it. You can, of course, eliminate the tail and make a perfectly round knot stitch. You can also work the stitch in isolation, and you can also leave the loop of the knot more open, for a different look. Down the road a bit, we'll look at some variations.
In the meantime, here's the video. I hope you enjoy it!
(If you are receiving this blog post via e-mail, please visit Needle 'n Thread to view the Chinese Knot Video Tutorial.)
If you are interested in learning other embroidery stitches, feel free to check out my collection of embroidery how-to videos here on Needle 'n Thread, where you'll find over 75 videos available to help you with your hand embroidery.
Looking for inspiration & information on hand embroidery?
There are all kinds of reasons to sign up for the Needle 'n Thread daily newsletter! Check them out and sign up today!
If you like what you see on Needle 'n Thread, if you want to be a part of keeping the website thriving (and free of annoying network advertising), why not become a patron on Patreon? Check out my Patreon page here, where I'll occasionally add special needlework bonuses for patrons.
If you shop on Amazon, you can support Needle 'n Thread without any extra expense to you by visiting my Amazon Recommendations page here, where you'll find books and sundries for the needleworker available on Amazon.