Yesterday, we looked at a quick and simple solution for transferring hand embroidery designs to fabric. The whole question of design transfer is a curious one – it seems that most embroidery folks have their favorite ways to transfer embroidery designs to fabric, and pretty much, they stick to them.
I can only claim this to be true occasionally for me. I'm always on the look out for other solutions to the design transfer question. There's an obvious corollary between the precision, visibility, durability and removability (or hide-ability) of the design transfer and the successful outcome of any hand embroidery project, so I think how we transfer our designs is an important question. Also, the ease and surety of any method of design transfer tends to influence especially beginners – if the design transfer problem is difficult to overcome, it's easy to lose heart and give up on projects that would otherwise captivate us.
So, here's a product that I'm currently testing to use for embroidery design transfers, especially for whitework. It's a chalk product, so I'm not 100% certain it's going to be Just the Thing. But I'm going to give it a try!
This is Bohin's chalk liner set. It includes 8 white chalks and 8 colored chalks that you can insert into the clickable pencil and write with. What attracted me about them is the fine tips on the chalks, the white chalk (for dark fabrics), and the two colors of blue, which may work for a whitework design transfer solution.
Incidentally, the chalk liner sets are marketed for quilting and sewing. Because they are chalk, my concern for their use as an embroidery design transfer medium is that the chalk line may easily wear off.
The thin little pieces of chalk insert into the "claw" at the top of the plastic pen-like holder, just like any mechanical chalk holder.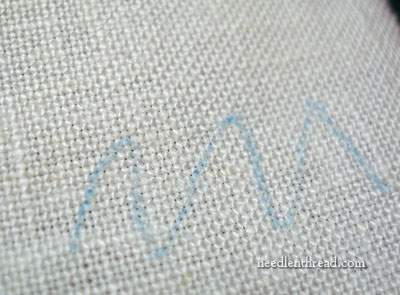 The line with the lighter blue chalk is quite clear and fine, so that's a good thing. I rubbed my finger over that a few times, just to see if it would disappear and it didn't. That's also a good thing. On the other hand, a few brushes of the finger are not quite the same as prolonged exposure on a frame or use in a hoop. So, a little more use is definitely required to see whether or not the lines will withstand the test of time.
The collection comes with a standard pencil sharpener. This is helpful if you're not too concerned about maintaining a fine point.
It takes quite a bit of sharpening to get the chalk to a rather dull point, which isn't too useful if you want a fine line. The best bet for achieving a sharp point on this type of chalk, I think, is to rub the point down on scrap paper, or to use a sharp knife or fine emery board and hone the chalk to a decent point.
You can see in the photo above the dark blue chalk line, too. I prefer the lighter blue, but the dark is nice, too.
I can see how these chalks would work really well in sewing or quilting, where the lines are not necessarily needed to endure for a long time. Not quite sure about embroidery designs, but I'm definitely going to give it a try, and I'll report back to you.
I found this at Anita's Little Stitches, by the way, if you're looking for something similar. She carries an incredibly thorough line of Bohin products (including all their needles, and many of them in bulk), so I was happy to find her!
Have you had any experience using chalk-type products for transferring hand embroidery designs? Any recommendations? What products do you use to transfer your designs, in general? Do you stick to one method of transfer, or do you use different methods depending on what you're working on? Would love to hear your take on the whole embroidery-design-transfer question – it's an excellent topic for sharing advice and ideas! Feel free to leave a comment below!