Once in a while, I take questions that come into my inbox and turn them into blog posts. The other day, I received a couple questions about copyright in embroidery. I thought it might be an interesting topic to open up.
Please keep in mind, I'm only writing from the standpoint of US law, and not as an expert at it, either, though I did consult an expert to make sure I wasn't saying anything off the mark, here. Still, I'm open to correction!
By reading the copyright laws and understanding certain terminology and applying a little common sense, what's what in copyright issues for embroiderers should be pretty clear.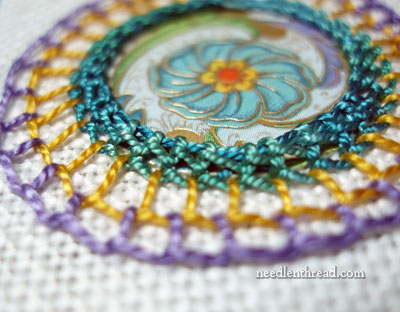 Can you Copyright an Embroidery Stitch?
The first question was whether or not one can copyright an embroidery stitch. The answer is no. An embroidery stitch is a process. A process cannot be copyrighted.
However, an image of a stitch, writings about a stitch, graphics or video relating to a stitch, and so forth, all fall under the protection of copyright, because this is authored stuff or artwork. But the process of creating a stitch cannot be copyrighted, because processes do not fall into the realm of the things that are protected by copyright.
For clarification on the above, see USC Title 17, Chapter 1, section 102(b), which reads: "In no case does copyright protection for an original work of authorship extend to any idea, procedure, process, system, method of operation, concept, principle, or discovery, regardless of the forum in which it is described, explained, illustrated, or embodied in such a work."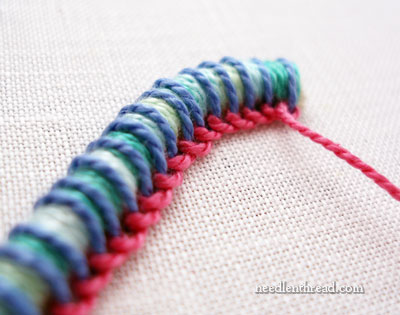 If anything, the question of "ownership" of a particular stitch would fall in the realm of patent, but, really, the idea of patenting a hand embroidery stitch is, in my opinion, laughable. (Though it has apparently been done before.)
Why do I think it laughable to patent a stitch? Here are a few of my reasons:
First, when it comes to embroidery stitches, there isn't much that's really "new" to be discovered. New stitch combinations are based on well-known stitches that have been passed down for generations. I think it would be rather cheeky to claim "invention" on a new combination of old parts, when it comes to stitches.
Second, to what end would one patent a stitch? To keep it for the exclusive use of the patent holder? Just to forbid anyone else from using it without permission? And how does this benefit anyone, including the patent holder? If the benefit is supposed to be financial, will the cost of applying for, maintaining, and protecting a patent really weigh in favor of the "inventor," especially if the "inventor" has to take to task anyone who uses the stitch?
Third, how can you possibly protect a patent on a stitch and make it clear that someone holds the patent to that stitch? It's not as if you can put a patent number on the thread or the stitch or the fabric every time you use it. A patent gives the owner the right "to exclude others from making, using, offering for sale or selling the invention throughout the US or importing it into the US." Exactly how can that be controlled on the process of a stitch? Every time the stitch pops up somewhere else, is the patent holder really going to say, "Wait! I have the right to exclude you from using that"? Furthermore, every time an embroiderer comes up with what seems like a new combination or a new stitch, is the embroiderer obliged to check to see if there's a patent on it, before using it?
Anyway, the idea of patenting a stitch seems to me to be rather narrow-minded, to be extremely impractical, and, to put it frankly, silly.
Are Embroidery Patterns Protected by Copyright?
Yes, embroidery patterns (designs) are protected by copyright. Any piece of artwork falls under the protection of copyright, until it has outlived the time limitations of the copyright. To read about the duration of copyright, you can check out this information on the duration of copyright. (USC Title 17, Chapter 3, sections 301-305).
Sometimes, designers allow people to use patterns for free (for example, the Patterns section here on Needle 'n Thread offers loads of free hand embroidery patterns for you), but these are always for personal use. If someone is allowing you to use a pattern for free, they aren't giving you carte blanche to turn around and sell it to other people.
Do Embroidery Kits Fall Under the Protection of Copyright?
Just as a kit has multiple parts, so does this answer! As discussed above, the design is under the protection of copyright, along with all the written instructional material, diagrams, photos, and so forth. But the concepts and the processes are not under the protection of copyright, because concepts and processes cannot be copyrighted.
In the photo above, you can see a kit for a needlebook designed by Bobbi Chase. There are lots of "concepts" in the above: a needlebook, a needlebook with birds on the front, a needlebook with wool thread embroidery on it, a needlelace edge on a needlebook, and so forth. None of these concepts are protected by copyright. If they were, then there could be no more needlebooks with wool embroidery on them – or rather yet, if they were, undoubtedly, the designer would be in violation of copyright, because certainly, someone else, somewhere, conceived of a needlebook with wool embroidery on it, long before the Nesting Place came to be. So you can see how the "concepts" can't be copyrighted.
Even the color choices for the project do not fall under the protection of copyright, because a color scheme is a concept.
To clarify with a practical example:
You buy a kit by another designer. In the process of working it, you learn how to create an embroidered, braided edge on the outside of a scissor fob. You like that braided edge treatment! And eventually, you design your own piece to make into a kit – say, a needlebook – and you decide that, for the treatment of the edge, you're going to use that nifty embroidered, braided edge you liked when you made that scissor fob.
Can you do that? Well, yes you can. What you can't do is anything that violates copyright in the process. You can write your own instructions, use your own graphics and so forth, to teach others the process of creating that edge stitch, in your own design. But you can't copy the design of the scissor fob, or any of the printed text, graphics, documentation, etc., for the scissor fob in your needlebook kit.
photo via So Happy on Flickr
The biscornu comes to mind, to clarify the above example. Someone, somewhere, made the first biscornu, with its characteristic offset backstitch edge and whipstitch join. The concept of the offset squares and the process of whipstitching the backstitched edges are not under the protection of copyright. And the biscornu has been duly disseminated around the globe, and adapted into all kinds of needlework.
I hope this helps answer some of the questions floating around out there about copyright in embroidery. I'm completely open to comments, questions, discussions, and so forth, about the topic – feel free to use the comment area below, if you wish!