Are you familiar with Trebizond silk? When it comes to silk threads, Trebizond is Pure Luxury. I don't think Trebizond has quite come into its own yet, in the surface embroidery world. Here and there, you hear about it used in surface embroidery, but mostly, it seems to more popular in needlepoint or canvas work.
Trebizond is a relatively thick, 3-ply twisted filament silk. It has a marvelous sheen that only comes with filament silk, and it is so very soft and sumptuous. Truly, it is a Gorgeous Thread.
It's z-twisted, so in some cases, the approach to using it has to be different. Certain stitches (especially stitches that twist together, like stem stitch) have to be worked opposite to normal. You can read more about z-twist vs. s-twist threads here, and about stem stitch with z-twist threads here, to see what I'm talking about, if you're not familiar with the topic.
While Trebizond is a beautiful thread and I think every embroiderer should use it at least once at some point, I'd say Trebizond is not for the beginner-in-silk. If you're just beginning to stitch with silk, a stranded silk like Soie d'Alger is a better bet for starting out.
But, anyway, why Trebizond? Why now? And with what?
This is a spontaneous project. Call it a challenge, if you like. It came about through an e-mail several weeks ago, and it's been stewing in the back of my head ever since.
The e-mail was from a reader who was looking for a recommendation for a silk thread to use with the plaited braid stitch.
She had consulted someone familiar with the plaited braid stitch with the same question and was told that it "should only be done with metal thread," but wasn't really given any reason, just a list of recommended metal threads.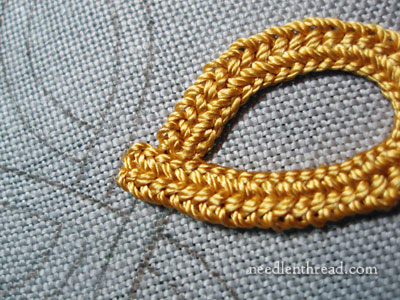 What does that mean, it "should only" be done with metal thread?
This notion surprised me a bit, and it got me thinking (which can often be a dangerous pastime). There are two things about this Should-Only that bug me:
First, there's the notion that certain stitches were developed exclusively for use with certain threads. So, apparently, for all eternity, this stitch and that thread must be married together, and no one must tear them asunder? Ever? This approach would hardly advance the cause of any art.
Second, there's this idea that somewhere out there, lurking around, just waiting, are the Embroidery Police. And if you stray from what "should only" be done, you're going to get your needles revoked.
"Should-onlies" don't quite fit in the world of hand embroidery! See, there's usually more than one way to do just about anything related to hand embroidery, whether it's how to work a stitch, how to transfer a design, which threads to combine with which, and on and on and on. Sometimes, it's true, there are easier ways, or more efficient ways, or more logical ways to accomplish embroidery-related tasks, and it makes sense to learn those ways. But very rarely is there only one way.
Because of the structure of plaited braid stitch and the tensioning involved in the stitch to get it to look right, it's true that many consider it "easier" to work the stitch with a metal or metallic thread, or some kind of cord, or something with a bit of stiffness to it.
And it's true that many of the images of plaited braid that we see today feature plaited braid stitch worked in some re-creative historical context, in metal threads.
But it's also true that plaited braid stitch looks darned terrific worked with Trebizond. It's also true that plaited braid stitch really isn't that difficult to work in a non-metal thread.
And I think it's also true that if we only slavishly re-create historical items without adding our own unique touches, approaches, techniques, interpretations, and so forth, then we haven't actually brought anything new to the art of embroidery. We haven't advanced the art any, have we?
It's very important to learn from the past, but it's also important to bring something new to what we learn. That is how art advances.
I picked Trebizond to establish the Plaited-Braid-in-Silk Point for two reasons: 1. It's a nice thick thread, and plaited braid looks good with a thicker thread rather than a skimpy thread; 2. Trebizond has a reputation for being somewhat fiddly, which increases the challenge of working the stitch with this thread, and I liked the increased challenge. You could also work the stitch with a stranded silk (like Soie d'Alger), using all the strands in one thread.
But one point you might note, before you launch into your next project that you're covering with plaited braid stitch worked with silk. The stitch is a Thread Hog Extraordinaire. If you ever want a stitch that eats thread like a whale eats plankton, this is it! So keep that in mind. You might practice it first with cotton to gauge how much thread it uses for you, and then determine how much silk you'll need.
If you're keen to try Trebizond, you can find it at Nordic Needle, at Threadneedle Street, at Needle in a Haystack, and at Fireside Stitchery. The last two shops are a bit more expensive than the first shops listed, so check prices before purchasing!