Just a quick reminder, in case you didn't get the opportunity to sign up for this week's give-away, it ends on Monday morning, bright and early. If you'd like the opportunity to win Phillipa Turnbull's beautiful Mellerstain Parrot kit, visit the original article here on Needle 'n Thread for the give-away and follow the instructions to enter before Monday.
Come on! You know you want this kit! If not for yourself, it would make a beautiful gift for a stitching friend! So join in on the give-away before Monday!
Next week, we'll have some Stitch Play going on here, along with some other fun stuff. There's the matter of this New Tool I've recently gotten my paws on, that I'm going to try out for you. Ooo la la! I Love Tools.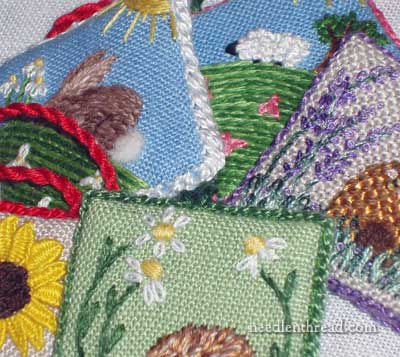 I'm also working hard to get the instructions for these Little Things out to you soon. There've been lots of inquiries on those since I showed you this lamb and this beehive (plus the bunny on my Facebook page!). I still have a few models to finish stitching, so it'll be a couple more weeks at least. But I can't wait to show them all to you!
Wishing you a pleasant and happy weekend, wherever you are, whatever you're doing!