You know that cliché? The one that tells you not to sweat the small stuff?
I wholeheartedly concur. In fact, I never sweat the Small Stuff. I love the Small Stuff!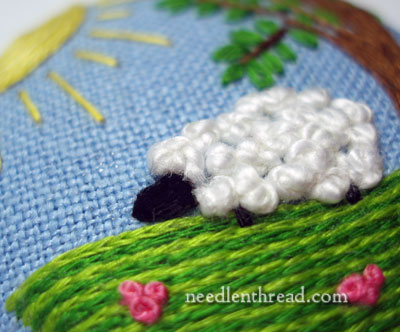 And Small Stuff and embroidery just go together. There's nothing better than a wee embroidery project that can be completed from start to finish in less than a weekend.
And this particular Little Thing makes me smile.
I hope it makes you smile, too! I'll tell you a bit more about it later on, when I get all my ducks in a row. Er… all my sheep.
Well, sheep and ducks.
And other things, too.
Have a happy day!
Lavender Honey & Other Little Things E-Book!
If you want to try your hand at making adorable little embroidery accessories featuring lavender and bees, sheep, a bunny, sunflowers, even a fantastic little hedgehog – with more than 20 projects available by mixing and matching patterns and finishing instructions – why not explore my e-book, Lavender Honey & Other Little Things?
For beginners and beyond, Lavender Honey is a delightful way to put your embroidery skills to work, creating Little Things that will make your stitching life delightful, and that are perfect for giving as gifts (even to non-stitching friends!) as well.
You'll find Lavender Honey & Other Little Things available here!
And yes, the darling sheep above is included!
Tags