Over the last week, I've added quite a few new embroidery stitch videos to the collection here on Needle 'n Thread. I'm ever-so-determined to replace all the old videos with new ones that are clearer and more compatible with other devices – before the end of the summer!
Right now, there are over 70 how-to videos in the collection, and about half of them have been replaced. I have a short queue of replacement videos ready to be edited this week, plus about ten new stitches (and other "how-to" videos relating to needlework) to add to the current collection. Then it's back to filming again.
This is a fun project, though really time-consuming. I'm pretty sure it's a worthwhile project, too, and that it will pay off in the long run. My hope is that the videos make learning embroidery easier for those seeking to learn, and that they help stitchers expand their needlework a bit.
Here's a list of recently updated videos. Maybe you can find a stitch in there that you've not worked before and give it a try!
Buttonhole Wheel – Unlike the older version of the video, this one works around the whole wheel, showing you how to keep it from collapsing on itself, and also demonstrating how to make an invisible join when you reach the beginning of the circle again.
Oyster Stitch – a petal-shaped isolated stitch, perfect for adding texture and variation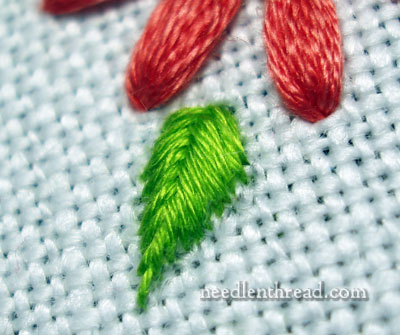 Fishbone – An ideal stitch for creating leaves
Detached Chain (Daisy Stitch) – a basic embroidery stitch, perfect for creating very simple petals, but also useful as an isolated stitch in other applications
Mountmellick Stitch – Creates a decorative line of little pointed triangles connected by the chain stitch. It can be mirrored (as in the photo above) for a really nice border effect.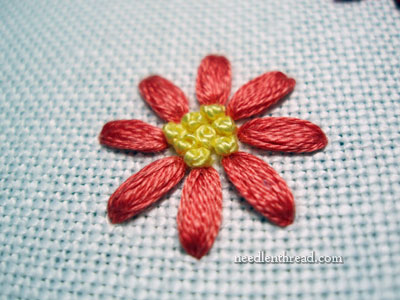 Granitos – an isolated stitch, perfect for petals, and works great in all kinds of embroidery threads.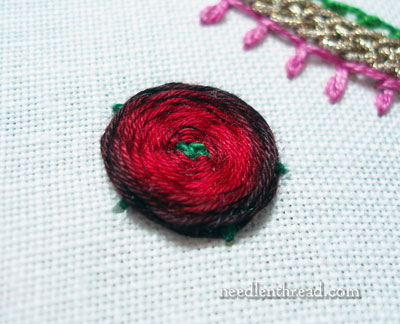 Woven Wheel (or Woven Spider Web) – for isolated textural elements and simple but impressive flowers, either with floss or ribbon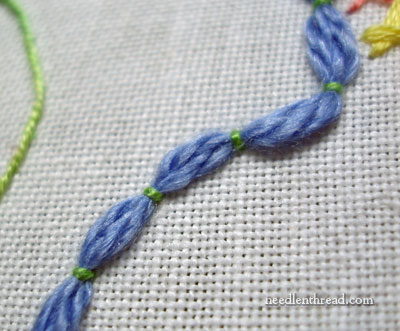 Couching – The video presents basic couching. It's a very versatile stitch and you can do a lot more with it than just couching straight lines!
Raised Chain Stitch Band – Very textured raised stitch
Wheatear or Wheat Stitch – perfect for embroidering a little stalk or ear of wheat, but works really well as a decorative line, too. It's a combination of reverse chain stitch and little diagonal straight stitches.
Ribbed Spider Web Stitch – another circular spoked element great for adding spots of texture to embroidery.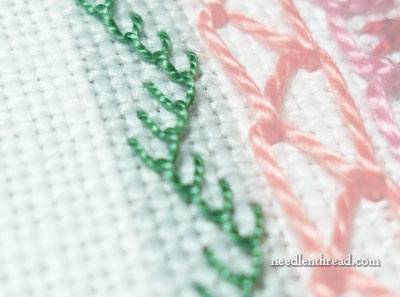 Double Feather Stitch – this stitch an be combined with regular feather stitch in a random, loosely worked way, to create very "free-form" vines and branches.
Taking Requests for Stitch Videos
I'm still taking requests for stitch videos, if you want me to add any particular stitch to the list. Right now, I'm working on many new stitches, so the stitch you're looking for may already be on the list. But in case it isn't, feel free to mention it below and I'll do my best to fulfill your request.
Alphabetical Index of Embroidery Stitches
I'm also working on an alphabetical index of the stitch videos, to make it easier to find a stitch by name. The alphabetical index will not replace the current visual index on the main video page. Instead, it will be an added category. Just tweaking a few things to get it all to work and look right, and it will be up – hopefully, by the end of the week! Thanks for your feedback on that question!
Until tomorrow!