The Buttonhole Wheel uses the buttonhole stitch (also called the blanket stitch) to create a wheel. You can work buttonhole wheels with radiating spokes from a center point. You can also work the buttonhole wheel around a center dot, to create a flower or other similar element.
The trickiest part of working a buttonhole wheel is keeping the stitches from closing up on you as go around the circle. The trick to avoiding this is to always pull your working thread in the direction that you're moving around the wheel. You want to keep a fairly tight tension on the working thread, but not so tight that the stitch buckles. This is demonstrated in the video.
Another trick to a well-made buttonhole wheel is ending the wheel in such a way that you can't tell where the wheel begins or ends. This is also explained in the video.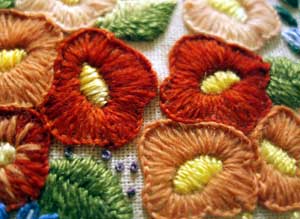 By changing the shape of the wheels slightly and closing up the space between them, you can produce different effects with the stitch. In the sample above, the buttonhole wheel was used to create a bunch of hollyhocks out of wool thread.
Here's the buttonhole wheel video:
If you'd like to explore other hand embroidery stitches, feel free to check out my hand embroidery how-to videos here on Needle 'n Thread!
Looking for inspiration & information on hand embroidery?
There are all kinds of reasons to sign up for the Needle 'n Thread daily newsletter! Check them out and sign up today!
If you like what you see on Needle 'n Thread, if you want to be a part of keeping the website thriving (and free of annoying network advertising), why not become a patron on Patreon? Check out my Patreon page here, where I'll occasionally add special needlework bonuses for patrons.
If you shop on Amazon, you can support Needle 'n Thread without any extra expense to you by visiting my Amazon Recommendations page here, where you'll find books and sundries for the needleworker available on Amazon.