Did you know that the most beautiful embroidery magazine in the world – Inspirations Magazine – is now available in electronic format?
This means the magazine can be read on a computer, laptop, mobile device (iPad, iPod, iPhone, Android), or electronic reader (kindle, nook, etc.). It also means that, if you found the print price of the magazine out of your budget range, you can now get the electronic version for less than half price for the year. For less than $40 per year (four issues), you can enjoy Inspirations Magazine in electronic format.
It also means that you don't actually have to wait for your subscription to arrive in the mail. But… but…. well. More on that point, later.
At first, I was a little skeptical, I admit. I'm not exactly an "e-reader," myself. I admit that I've never read a book on my iPad! I like books that you open with your hands, so you can feeeeeeeel the paper, books that you can smell (yes, books have a smell!). And I like audiobooks, because they see me through many a long embroidery project. But I haven't yet gotten into electronic books.
But I do use my iPad a lot when traveling, and I do a lot of blog-related stuff on it. So I was eager to see just how Inspirations would translate, electronically. To that end, I bought a copy of the first electronic issue, and here's how the purchase went, and my impressions of the new electronic version of Inspirations Magazine.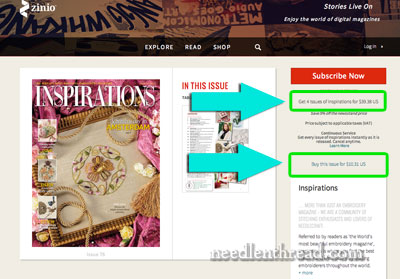 First of all, going through Zinio (this is the platform which hosts Inspirations Magazine), you have two options. You can opt in for a full subscription, which is the most economical approach, or you can be an individual copy. I bought an individual copy, since I am already subscribed to the paper version of the magazine.
To make the purchase, you have to have a zinio account. They give you a couple options for sign in, and you'll find a link to "Don't have an account?" on the right hand side of the page. Click that link and set up an account, if you don't already have one. It takes all of 45 seconds, depending on how fast you type.
Once you have an account set up, you make your purchase. You can pay via credit card or via Paypal. Just be sure that you understand the payment set up, if you subscribe to the magazine. The subscription auto-renews. You can cancel at any time, and they will refund you the issues in the subscription that haven't arrived yet, but you should be aware that the subscription does auto-renew.
Once you make your purchase, you will be prompted to download the reader for zinio. You have to have a separate app on your computer or device to read magazines through zinio. The download process for the app is very easy, but if you miss the prompt, you'll have to do some digging to get to the app download. The easiest way I found to access it (besides googling "zinio reader 4 app download") was to use the "help" feature at the bottom of the zinio page, under your reading list after making the purchase.
In the Help screen, you'll find information on the different ways you can read magazines through zinio. Click on your device (PC / Mac, iPad, Android…) and you'll be taken to the FAQs for that device. There, find the question "Where do I download…." and you'll be taken to the right place.
I know this part sounds complicated, but it's only because I missed the prompt to download the app. If you don't miss that after you've made your purchase, you'll save a step or two!
In any case, within about 3 minutes of starting the whole process, I had the latest issue of Inspirations in front of me, on my desktop.
Zinio gives you all kinds of ways to access the different pages in the magazine. You can scroll through the full size pages, or you can click the thumbnail view and see the whole glorious magazine in little rectangles spread out before you. You can click on the page you want, and go right to it.
Alternately, you can go straight to the table of contents, and each item in the table of contents is clickable, so you can move easily to whatever part of the magazine you want to access.
But you know, in Inspirations Magazine proper, the pattern pages at the back of the magazine are a key feature. How is this handled electronically, I wondered?
At the end of the table of contents, there's a nifty little box titled Pattern Downloads!
Click on the pattern you want, and you have a nice PDF with the line drawing, ready to print out!
Jolly!
So you bought the electronic version of the magazine while you were sitting at your computer, right? (Well, that's how I did it.) But what if you want to transport that copy around with you?
Assuming you have some kind of the many devices that people use for these things, it's easy – you just download the app for the appropriate device on your device. In my case, I use an iPad, so I downloaded the free zinio app from the app store, logged into my zinio account, and there was the magazine, waiting for me.
The features of the iPad app are slightly different from the features I see on my Mac's desktop, but the content is all the same. Instead of a full page thumbnail view, the thumbnails are available along the base of the iPad screen. You can click or pinch on any page and it will fill the screen or return to the thumbnail view. And you can easily swipe through the whole magazine page-by-page. The table of contents is clickable, so you can visit that page and click directly to whatever page you want to visit.
But… on the iPad, what about those pattern pages?
Well, they're still there!
And when you click on the link for the pattern download, the pattern opens in a separate document, and you can "air print" that to your networked printer if you need to.
Incidentally, on small patterns, you can also use your iPad as a light box, and just trace your design straight onto your fabric….
On the iPad, you can look at the full two-page spread at once time…
… or you can easily zoom in to view very clear, detailed photos or smaller chunks for reading.
Pros & Cons
Pros – these are Easy!
1. You get to enjoy the content of Inspirations Magazine for less than half the price of a regular print subscription, if you subscribe for the whole year.
2. If you are an electronic-reader-sort-of-person, you've already got everything you need to bring Inspirations to your fingertips.
3. The magazine is beautiful in print; it is equally as beautiful, digitally! You can zoom in on the photos and see them up close – it's just really nicely done!
4. It's very easy to move around in the magazine, to access your favorite parts, to find what you're looking for.
5. The pattern downloads are tres nice!
6. You don't have to wait for your print copy to arrive! Once the magazine is out, it's out. It's available. You've got it. It's at your fingertips. And zinio will let you know when it is there.
Cons
1. You don't have a hard copy, obviously.
2. If you like reading real books, flipping real pages, toting a magazine around, and so forth (I do like these things, including toting a paper magazine around for something to read), then obviously, you will miss those experiences.
3. This one is a stretch, but…. I do like waiting for my copy of Inspirations to arrive in the mail. There's something about the anticipation for each issue, the arrival of something I actually want in the mail… flipping through the magazine over a cup of tea…
The Publishing Dilemma
So many magazines and newspapers have gone digital, that it's no surprise that Inspirations has gone this route. As costs increase on printed materials and magazines, on shipping, and the like, the subscription prices become more and more expensive for printed magazines, especially high quality magazines like Inspirations. I'm glad that they are giving folks a more economical option for acquiring their magazines. Will the print magazine disappear in the future? I suppose that remains to be seen. But there are so many options with digital magazines now. Maybe, for example, hard-to-find back issues will become available for electronic purchase. That would be kind of nice! But I don't know what the future holds in store. It's a tricky situation, to be a publisher in this digital age and make enough money to keep a business afloat, that's for sure. I'm glad that Inspirations is doing their darndest to spread the love of beautiful embroidery. It'll be interesting to see where the future goes with this!
In the meantime, if you are keen to read Inspirations in electronic format, you can find Inspirations Magazine available on zinio!