We've all used them at some point in our needlework lives.
They're called "pull skeins." And if you pull in the wrong place, you'll be pulling your hair out in frustration before too long!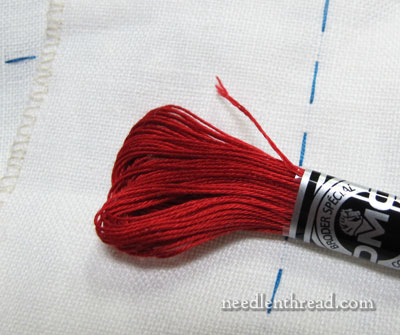 Ooooh. It looks enticing, doesn't it? That little end of floss sticking out there – it's just begging to be pulled! Right?!
Wrong!
Believe it or not, that's the wrong end of the floss to pull. How do I know? Because I pulled it!
It was beckoning. It was obvious. It was the Only End in Sight. And so, I pulled.
Ideally, that's what's supposed to happen with a pull skein. You should be able to pull on the exposed end of floss on a new skein, and pull the thread you need from the skein without a hitch.
Most commercially produced stranded cotton flosses (DMC, Anchor, Cosmo… and plenty of others) are packaged and sold as pull skeins. Some non-divisible cottons are sold as pull skeins (like the thread above – coton a broder #25 "cutwork" thread). Many stranded silks are sold the same way. Some wools and some blends also come in pull skeins. In fact, I'll go out on a limb here and say that the pull skein is probably the most common way that hand embroidery thread is put up and sold.
Would you believe that the photo above is what happened after pulling the right end of the floss?
Of course you would! We've all carried on Mammoth Wars with the Pull Skein, whether we pulled the right end or not. Haven't we?!
Sometimes, even if you pull the right end from the skein, somewhere deep in the bowels of the thing, a mess will ensue. Some twisted thread will attack and capture every thread around it. And the pull skein? It will pull apart into an ungodly conglomeration of discombobulated thread-mess.
It is the Nature of the Pull Skein. It was invented specifically to carry on like this.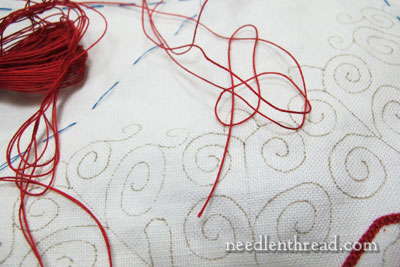 How to Handle a Pull Skein
When facing a pull skein, think of it as going to war. Not a war of violence and death, though. A war of wits and patience and endurance. Steel yourself up for the experience of conquering the pull skein – and of conquering yourself, if you don't conquer the pull skein.
Always approach a pull skein with caution. Do not barge in on it, do not surprise it, do not pounce upon the unsuspecting thing. Go slowly. Pick it up. Let it become familiar with you. If it gets used to you, after all, it may not bite you.
After you've strategically studied the thing and located a loose end of thread, begin talking in soothing tones to the pull skein. Tell it what you're going to do with it. Tell it what you expect it to do for you, in return.
You might sound something like this:
Ooooh. There you are. You sneaky little thread end. Now, very gently (this won't hurt at all), I'm going to grab onto you, and slowly pull you out of your warm and comfortable skein. As I start to pull, I want you to cooperate. Don't tangle yourself up – just come on out to momma…. that's right… nice little schnookywookem.
Little terms of endearment along the way might help.
But really – no, seriously – the point is this: when you discover a thread end, pull it very slowly. If the opposite end of the skein starts to pull inwards, you've got the wrong thread end. Go look for the other one!
When you finally locate the "right" one (for some inconceivable reason, it will be much harder to find than the wrong one), pull gently. Never yank the thread out quickly. It's worth taking that extra split second to work slowly, than to pull quickly and end up with a tangle inside the skein.
When you do end up with a tangle (because you will, at some point, end up with a tangle), don't keep pulling on the thread to try to get more out! This is where you have to conquer yourself! You might be eager to get on with your stitching, and you might just need one more 18″ length… but in the long run, it's always better Never to Rush a Tangle.
Once you notice the tangle developing, stop doing what you are doing! Follow the line of thread to the tangled area, and find the thread that is causing the tangle. If you've pulled your thread into a tight tangle, it will be more difficult to untangle it without frizzing up or damaging the thread.
Now, I know a lot of people claim that there's a trick to finding the "right" end of the pull skein:
It's always located near the long tab on the skein!
Or
It's always located under the short tab on the skein!
Trust me. There's no always to a pull skein. The pull skein has a mind of its own. It is related to the wire clothes hangers that get tangled up in your closet – second cousins once removed or something.
If you handle the pull skein gently, with respect (and throw in a few cootchy-cootchy terms along the way), it will perform for you. If you handle it roughly, with haste and no consideration for its fibrous feelings, it will drive you mad.
Ah well. For me, it's a short trip. Oh, the things we go through, to embroider!
What's your experience with pull skeins? Love 'em? Hate 'em? Any comments? Any hints you've learned along the way, for handling pull skeins? Do you pre-cut your threads before you start a project, so you don't have to deal with the skein? Do you wind your threads on those little plastic card things? Or do you just handle the skein and make it work? Feel free to share your insights below!
Tags