It's strawberry time again here on Needle 'n Thread! It's your chance to participate in a thoroughly instructive class in needlepainting (long and short stitch shading), taught by Margaret Cobleigh.
In today's article I'll tell you about the class, including some insights gleaned from students who participated in last year's run, plus let you know exactly when registration will be open. That way, if you want to take the class, you can mark your calendars and jump in to reserve your space as soon as registration opens.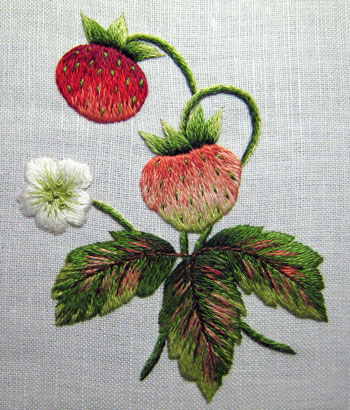 The class focuses on embroidering these luscious little strawberries using needlepainting techniques. If you've wanted to learn needlepainting or improve your shading and long and short stitch techniques, this is the class for you!
Class Materials
Participants in the class will receive a full kit of materials, which includes a full-color printed instructional booklet with step-by-step photos for completing the project, the design pre-printed on a linen-cotton blend fabric, full skeins of DMC floss in the 11 colors required to complete the project (giving you enough thread to complete the project three times if you want!), and Bohin needles. You will need to provide a hoop or frame, good lighting (with magnification if necessary), and scissors.
Margaret's step-by-step instructions are extremely thorough and clear. They're among the best embroidery instructions I've ever seen in a kit.
This is an excellent way to learn the techniques of realistic shading in embroidery, and you'll have the instructor on stand-by to help you every step of the way.
"Loved every thing about the kit – great instructions in a very organized and logical order – photos were really useful." (Previous Participant)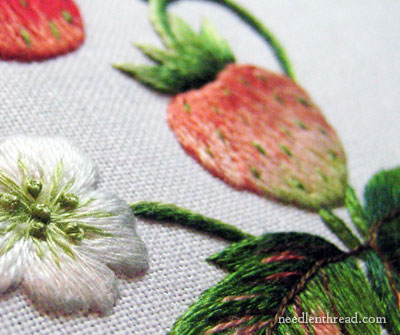 The Online Classroom
LOVED the online stuff – the lay out is excellent. (Previous Participant)
The class will take place in a special classroom area here on Needle 'n Thread, in the Ask & Share forum. The classroom is only accessible to class participants.
Additional lesson material is posted in the online classroom each week, and the classroom will remain available to participants after the class has ended, so that you may work at your own pace.
The classroom is interactive. You can post questions and answers, carry on discussions, post photos of your progress for feedback, or chit-chat with your classmates, all within a very user-friendly setting. The primary instruction and interaction takes place within the class forum, with e-mail support from the instructor as necessary.
Awesome feedback – very detailed and very precise and useful and personalized. (Previous Participant)
Special how-to videos are available to acclimate you to the online setting, but some basic computer skills are necessary. You should be comfortable using a computer and performing basic operation such as downloading and uploading files.
Class Calendar
Registration will open this Friday, January 18th, at 8:00 am Central Standard Time (Kansas, USA). On Friday at exactly 8:00 am my time, the registration post with the live link to the registration for the class will appear here on Needle 'n Thread. If you are really eager to get into the class, don't wait for the e-mail newsletter – just check right here on the website.
The class itself will begin on February 15th, and will run for four weeks, ending March 14th. The distant start date allows for the arrival of the materials kit in the mail, so that all participants are ready and rarin' to go on the first day of class!
After the class has ended, you may continue to access to the classroom for as long as you need it.
Margaret was always available for students with comprehensive instruction and guidance. Great learning experience! (Previous Participant)
Class Costs & Payments
The class cost, including the full materials kits and online classroom access and instruction, is $70 plus shipping.
Payment is by Paypal only, and is made directly to Margaret Cobleigh through the registration link that will be posted here on Needle 'n Thread on this Friday, January 18th, at 8:00 am Central Standard Time.
Since this is the second round of the class, a few more spaces are available so it won't be as difficult to get a spot. Nevertheless, class spots are reserved only with registration and payment, which is on a first-come basis.
Why do we do it this way? Because our materials are in hand and kits are made up before we open registration. This assures that each participant receives all the materials in a timely manner, as promised. We know exactly how many spots are in the class, based on how many kits we have. As soon as the kits are sold out, the class is full. It's a little riskier for us to do it this way, but it's well worth it, for our peace of mind and your satisfaction.
If you're keen to join us for the Vintage Strawberries class, keep an eye out Friday morning for the registration announcement!
Hope to see you in the classroom!